---

Wednesday, May 13, 2015
Alaska Marine Budget Update
Alaska Marine Funding Restored
for 2015/16

By allocating $5.5 million of unused fiscal year 2015 AMHS fuel trigger funds, Governor Walker restored funding to the 2016 Alaska Marine operating budget .
This funding allows Alaska Marine to provide the previously scheduled ferry service & thereby honor previously booked reservations.

There is one exception - the MV Taku sailings for July and August of 2015 have been cancelled but the vessel will return to service in October

---
Wednesday, May 13, 2015
FVF Chenega to Make Extra Stop
Extra ferry stop 17 May in Angoon Alaska

The FVF Chenega will make an extra stop in Angoon to accommodate visitors attending the Angoon High School graduation.
For additional details contact 907-465-3940

---
Wednesday, May 13, 2015
MV Aurora Inspection
Alaska Marine:

A Coast Guard inspection on Tuesday, 26 May will cause the MV Aurora to have an extended port call to Valdez on Tuesday May 26th
For additional details call 1-907-465-3940.

---
Wednesday, May 06, 2015
Alaska Ferry Late Returning from Drydock
Alaska Ferry Delay


The MV Tustumena is scheduled to return to service Sunday, May 17 after additional service was deemed necessary during the ships annual overhaul.
There will be a revised schedule however it should not affect the ships departure from Homer on May 19


---
Wednesday, May 06, 2015
Florida Cuba Ferry Service
Withthe opening of Cuba to US travellers, several ferry companies have made application to serve travellers seeking visit Cuba by ferry.
---
Wednesday, April 22, 2015
Summer Ferry Schedules Posted
Summer Is Here

Washington State Ferries have released the May-June schedules for Port Townsend/Coupeville and Anacortes/Sidney, B.C.
See www.ferrytravel.com/anacortes.htm

---
Saturday, April 18, 2015
BC Ferries Brentwood Bay to Mill Bay
Refit for MV Klitsa 13 April thru 10 June
Ferry service between Brentwood Bay & Mill Bay will be temporarily suspended while the MV Klitsa undergoes a scheduled major refit.
Travel to Mill Bay and Brentwood Bay is available via Highway #17 and Highway #1.

---
Friday, April 17, 2015
Alaska Marine Adds Sailings 20 April
MV Fairweather to sail 18 April

Alaska Marine has added sailings on Monday 20 April to accommodate ferry travellers who were affected by the cancelled MV Fairweather sailings on Sat 18th
High winds & heavy seas had caused the April 18 sailing cancellations on the MV Fairweather

Please contact the Juneau office at 1-907-465-3941 for further information,


---
Friday, April 17, 2015
MV Tustumena Still in Drydock
Return to Service Delayed

While in drydock for her annual maintenance it was discovered that the MV Tustumena required additional work.
This work had delayed her return to service until 12 May 2015.
As a result all Tustumena sailings from 02 May to 11 May have been cancelled but Alaska Marine agents in the Juneau office (1-907-4653941) are on hand to help with rescheduling ferry travellers.


---
Monday, April 13, 2015
No Cabin ? No Worries !
Alaska Marine Tenters/ Campers Have a Blast !

No need for a cabin if you want to meet & enjoy company from around the world; gaze at the spectacular heavens and rest your weary bones - just pitch your tent on the aft deck of the ferry and grab a recliner.
Enormously popular !

---
Monday, April 13, 2015
AMHS Closes On-Board Bars
No more Bars on the Alaska Marine ferries
Alaska Marine Ferries will close their bar service on their major vessels in 2015
Beer & wine will still be available on board but sales will be limited to each vessel's cafeteria and conducted only during meal hours.
The announcement suggests that the bar closures will result in a saving of some 750,000 per year for the ferry system.

---
Monday, April 13, 2015
Alaska Marine May Face Ferry Cuts
Alaska Marine Ferries: April 10, 2015
Budget cuts may force both Alaska residents and thousands of visitors planning ferry travel in Alaska this summer to make last minute changes to already confirmed reservations.

While not yet detailed, budget restrictions could force some 9,000+ people currently holding booked and paid for summer ferry reservations to cancel or reschedule their trip/s.


Alaska Marine Highways Deputy Commissioner Mike Neussl (907-465-6977 ) notes that AMHS reservation staff are organized & will be contacting travelers to reschedule sailings and minimize inconveniences as soon as any schedule changes are confirmed

For more details call 1-907-465-3941

---
Monday, April 13, 2015
AMHS schedule change for Cordova Music festival
Alaska Marine Schedule Change April 16, 2015

To accommodate the Cordova High School music festival there has been a route change to the FVF Fairweather ferry schedule.
Please call 1-907-4653941 for more details.
---
Thursday, February 05, 2015
Hoona Ferry Cancellation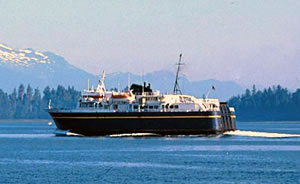 Alaska Marine Cancels Ferry
Due to storm force winds, heavy seas and freezing spray, the MV Aurora return sailing Hoonah to Juneau for Thursday, Feb. 5 is delayed.

Information provided by the Alaska Department of Transportation.
Questions should be directed to AMHS at 907-465-3941


---
Sunday, November 09, 2014
BC Ferry Dilemma
BC Ferries is once again between a rock and a hard place.
The Premier has told the corporation not to increase fares nor cut services.
The Transportation Minister advised the corporation that there is no extra money in the budget for additional government funding.
Hmmm.

---
Thursday, April 03, 2014
Alaska Ferry Needs Generator Repairs
Alaska Ferry Changes
Commencing 04 April 2014, MV Aurora will provide interim service to cover the MV LeConte
MV LeConte is out of service while her generators undergo repairs.

---
Wednesday, April 02, 2014
Alaska Ferry LeConte having generator trouble
Alaska Ferry Cancellation: 02 April/14
Mechanical issues with the MV LeConte generator have caused the cancelleation of her April 2, 2014 sailings.
The situation is currently being assessed & updates can be obtained from the Juneau ferry office.

---
Monday, October 21, 2013
BC Ferry Facts
BC Ferries carry 20 million passengers over 25 routes & 47 ports of call every year.
The fleet includes 35 vessels of varying sizes

The largest vessels in the BC Ferries fleet measure 560' (think 2 football fields) and accommodate 2,100 passengers and 470 vehicles

Thumbnails showing only a few of the BC Ferry Fleet vessels

---
Monday, October 21, 2013
Inside Passage: A Bucket List Must
Whether taking an Alaska ferry from Bellingham WA or a BC ferry from Port Hardy BC, the Inside Passage journey provides unparallelled views of the coast.
Only one hitch - the beauty of these "mini cruises" is now common knowledge making advance bookings mandatory.

Bookings for summer 2014 Port Hardy - Prince Rupert ferry sailings can be made now on www.ferrytravel.com.



BCF MV Northern Expedition

Bookings for summer 2014 Bellingham-Alaska ferry sailings will be online soon - but currently can be made with an Alaska expert at 1-800-686-0446


Alaskas' MV Kennicott
---
Monday, October 14, 2013
Plan 2014 Alaska Ferry Travel Early
Its Not too Early to Plan your Ferry Trip
Ferries are an integral part of life on the BC, WA and Alaska coast.

The popularity of the Alaska Ferries on a global scale coupled with their limited sailings means reservations are absolutely required months and months in advance.

For summer 2014 ferry reservations or planning information call 1-800-6860446 asap

---