---

Monday, October 14, 2013
Spectacular Inside Passage Ferries
Vancouver to Nanaimo ferry + Port Hardy to Prince Rupert ferry = Magic

BC Ferries provide some on the worlds most spectacular scenery as you travel thru the Inside Passage.
Ferry from Vancouver (Tsawwassen or Horseshoe Bay terminal) to Vancouver Island at Nanaimo (either the Duke Point or Departure Bay terminal) then drive up the Island Hwy, thru famous Campbell River to Port Hardy before relaxing on the graciously appointed MV Northern Expedition as she travels to Prince Rupert.


Call 1-800-686-0446 for reservation help
---
Monday, October 14, 2013
Seattle Victoria Ferry Magic
Stay 1 Day or Stay Several Days:

Seattle Victoria ferries enable magical one day or multi-day holidays - but plan ahead because advance reservations are required to avoid disappointment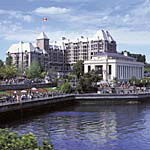 Fabulous "will not be undersold" package policy makes combining a Victoria hotel stay with a Ferry from Seattle the best price available.

Phone 1-800-686-0446; or see online ferry booking at www.ferrytravel.com

---
Tuesday, October 08, 2013
Alaska Ferry Summer 2014 schedules
Alaska Ferries


2014 ferry bookings for travel commencing 01 May will be available within the next week.
Alaska ferry space sells out quickly so if planning a summer trip to the "Last Frontier" call 1-800-686-0446 to ensure securing cabin/ vehicle space during the high season.


---
Sunday, October 06, 2013
Alaska Ferry Cancelled Oct 06 & Oct 07
Generator Failure causes Ferry Sailing Cancellation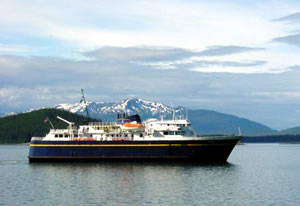 Sunday Oct 06/13 & Monday Oct 07/13
MV LeConte sailings for Sunday, October 6 and Monday, October 7 have been canceled due to a generator failure. Call 1-800-686-0446 for help in rescheduling



---
Wednesday, October 02, 2013
October Ferry Hotel Specials from 134.00
Seattle -> Victoria Holiday Packages starting at 147.00pp/do (Incl fuel charges)

James Bay Inn Inn At Laurel Point

Guaranteed Lowest Ferry/Hotel Package Special Includes
2 days / 1 night minimum (additional nights available)
1 night Victoria* hotel

Round trip ferry between Seattle and Victoria
All applicable taxes
All pricing in USD &may vary based on actual travel dates
Minimum 1-day advance purchase required
Passport, Passport Card or EDL required when crossing an international border for everyone 18 yrs+
Fuel surcharge is included

Subject to change
* Pricing varies according to hotel chosen : most popular Vic hotels are available
Call 1-800-686-0446 for help in planning /booking





---
Tuesday, October 01, 2013
October Special: Victoria - Seattle round trip ferry + 2 Seattle hotel nights from 196.00pp
Victoria -> Seattle: Round trip ferry + 2 Seattle hotel nights


Special October 2013 pricing starting at 196.00 pp ( based on double occ)
Special November 2013 thru April 2014 pricing from 193.00pp ( based on double occ)
---
Tuesday, October 01, 2013
Boarder Crossing Reminder
Passports:
Ferry passengers crossing any boarder are required to carry a valid Passport
Children under 18 yrs who are traveling with their parents are not required to have their own passports

Firearms:
Hand Guns / Semi & Automatic weapons are not allowed into Canada.
If driving the Alaska Hwy (also known as the ALCAN because it dips into Canada) or, if traveling by ferry to Haines Alaska, be aware that you will need a passport after disembarking because to drive to Anchorage, Fairbanks etc is thru Canada.
The only way to avoid traveling through Canada on the way to Alaska with a vehicle is to ferry from Bellingham WA to Whittier Alaska

DUI:( Driving Under the Influence)
A DUI conviction is considered a felony in Canada and can result in being denied entry into the country.
If a DUI conviction is part of your past, apply for a waiver prior to arriving at the boarder

---
Wednesday, September 25, 2013
Alaska Ferry Space From WA Sold Out Until November 2013
Alaska Ferry Travel Popularity Increase Each Year


MV Columbia

2013 gave no sign of the recession for the Alaska Marine ferries.
Bookings for the 2013 summer season saw most vehicle and cabin space sold out by February and as we move into the fall / winter period, all sailings north from Bellingham to Alaska & south from Haines to Washingtom are sold out of vehicle space until November

Cabins and vehicle space are the 1st thing to sell out so if planning a trip in 2014 - Book early !
If the desired ferry schedule is not posted call 1-800-686-0446 and request a call-back as soon as the newest schedules are available



---
Wednesday, September 25, 2013
Alaska Marine Celebrates 50 Years
Alaska Marine Celebrates with the Port of Bellingham
Overcast skies did little to dampen the enthusiasm of Alaska Marine personal as they brought their 50th birthday celebrations to the Port of Bellingham recently.
Cakes, cookies, a live band and an opportunity to board, explore and have a bite to eat in the MV Kennicott dining room all combined to create a good bit of PR for the ferry system that has served the coast for 50+ years




One of the many cakes enjoyed by visitors at the Port of Bellingham celebration



Captain Falvey AMHS General Manager thanked the Port of Bellingham for its hospitality to the Alaska ferry system over the years




---
Tuesday, September 24, 2013
Guaranteed Lowest Ferry Hotel Price
Seattle Victoria Ferry Hotel Special

Travel round-trip Seattle Victoria with 1 or more nights in a Victoria* hotel
and be guaranteed that you will not find a lower price

Sampling of some of the Victoria Hotels participating in the ferry/hotel special:

Fairmont Empress ( 5 Star) Chateau Victoria ( 3.5 Star)
Hotel Grand Pacific ( 5 Star) Oswego Hotel ( 4 Star)
Inn at Laurel Point ( 4.5 Star) Royal Scott ( 3 Star)
Coast Harbourside ( 3.5 Star) James Bay Inn ( 2 Star)
Best Western ( 3 Star) Many more

---
Tuesday, September 24, 2013
24 Sept, 2013: Alaska Ferry the MV Kennicott Delayed
High Winds Delay Alaska Ferry


The MV Kennicott has been delayed due to high winds.
A new schedule is anticipated to be available at 0800h Wed 25 Sept 2013

Please call 1-800-686.0446 for further updates

---
Tuesday, September 24, 2013
Alaska Ferry MV Lituya Has New Home Port
Alaska Ferry based out of Annette Bay
MV Lituya has change her home port from Port Chester to Annette Bay Alaska.




She will make 2 daily round trips sailings Thu, Fri, Sat,Sun.
Depart Annette Bay 09:00h
Arrive Ketchikan 09:45h
Depart Ketchikan 10:45h
Arrive Annette Bay 11:30h
Depart Annette Bay 14:45h
Arrive Ketchikan 15:30h
Depart Ketchikan 16:15h
Arrive Annette Bay 17:00h


---
Tuesday, September 24, 2013
Whittier Alaska Dock Closed
Dock Under Repair
Ferry sailings to /from Whittier have been cancelled while the dock is being repaired.
Travellers headed to Whittier are encouraged to call 1-800-686-0446 to arrange alternate travel
---
Thursday, December 27, 2012
Guaranteed Best Ferry / Hotel Package Prices
Save BIG Dollars
Book a ferry between Seattle & Victoria - add a Victoria hotel for 1, 2, 3 or more nights and get the lowest price - Guaranteed.

Round trip ferry + Victoria BC hotel packages start from $125 pp/do through April 2013. Plus Kids travel for $10*

*1 Child is $10 with round trip paying adult when purchasing a hotel package. Prices are per adult and based on double occupancy.
Date, voyage, space limitations, advance purchase and other restrictions may apply.

Participating Victoria hotels include:
Fairmont Empress - Hotel Grand Pacific - Inn at Laurel Point - Oswego Hotel - Delta Victoria - Coast Harbourside - Chateau Victoria - Royal Scott - BW Carlton Plaza - Harbour Towers - Hotel Rialto - James Bay Inn


---
Wednesday, December 26, 2012
BC Ferries Removes 2% Fuel charge on selected routes
Fuel Charge Removed
Travellers sailing between Vancouver Islands Duke Point, Departure Bay & Swartz Bay terminals and the Lower Mainland received a Christmas treat as BC Ferries removed the 2% fuel charge just prior to Christmas

Fuel surcharges have now been removed from all BC Ferries' fleet routes

---
Wednesday, December 26, 2012
BC Ferries Adds Extra Sailings
120+ Extra Sailings for the Holiday Season
19 December 2012 through 06 January 2013
Eighty-six sailings will be added between the Tsawwassen / Swartz Bay terminals and an additional thirty-six trips will be added between Horseshoe Bay and the mid-Island Departure Bay Terminal.

Call 1-888-223-3779 for ferry schedule details

---
Tuesday, December 18, 2012
Alaska Marine Cancels Ferry Sailings
Rough Seas & Heavy winds cause ferry cancellations

19 December, 2012
MV LeConte sailings for Wednesday, December 19 have been canceled due to 11' seas, storm force winds & heavy, freezing spray in Northern Lynn Canal.

20 December, 2012
The MV Taku will sail Lynn Canal on Thursday, December 20 to alleviate displaced travelers.
For more information, please call your local AMHS terminal

Alaska Marine Highway System staff is contacting affected passengers.
---
Thursday, November 08, 2012
Port Hardy - Prince Rupert Ferry Schedules
2013 BC Ferry Inside Passage Day Cruise
Ferry schedules are now available for 15 hr day cruise between Port Hardy & Prince Rupert
The cruise departs each side on alternate days at 0730h arriving at 2230h.
This trip provides some of the most spectacular scenery and is photographers dream

Reservations can be made at www.ferrytravel.com or by calling 1-800-686-0446

---
Thursday, November 08, 2012
Whittier AK Ferry to Washington
Cross Gulf ferries must be booked well in advance
Vehicle space on the ferries from Whittier AK to Washington is now Sold Out.
23 Jan 2013: 1st available vehicle space on the Whittier ferry to the Lower 48
26 Dec 2012: 1st available vehicle space on the Washington ferry to Whittier


---
Friday, November 02, 2012
Book Seattle Ferry-Hotel before 15 Nov & Save
SEATTLE FERRY-HOTEL SPECIAL

Ferry + 2 Seattle Hotel Nights + all Taxes
Holiday Inn Express $149
Warwick Hotel $158
Crowne Plaza $166
Spring Hill Suites $188
Mayflower Park $222

Must book Overnight Package October 30 – November 15 and travel November 1, 2012 – February 28, 2013.
One letter per two night room package (not per person and not per night).
New reservations only.
Prices are per adult and based on double occupancy.
Rates may vary depending upon travel dates. A fuel surcharge will be added to all ferry packages.

Kids (1-11) travel free with package purchase, one per paying adult.
All rates in US dollars including tax. *Restrictions apply. Subject to change.

Call 1-800-686-0446 to book
---