---

Tuesday, October 03, 2017
Alaska Ferry Advisory
Bellingham WA Ferry to Alaska
The following schedules for the MV Kennicott (Bellingham to Alaska) have been revised.
06 October, 2017: the ferry from Bellingham will now depart at 4:00pm - one hr earlier than scheduled.
20 October, 2017: the ferry from Bellingham will now depart at 3:45pm- 75 minutes earlier than scheduled.
---
Tuesday, October 03, 2017
Alaska Ferry Advisory
Ferry Schedule Change Warning
Alaska Marine has just released a ferry schedule change for Friday 20 October, 2017.
The ferry to Alaska from Bellingham WA will now depart 1 hr and 15 minutes EARLIER than scheduled.
Check-in for all Alaska travellers boarding the MV Kennicott will now be 1:30PM.



---
Tuesday, October 03, 2017
Ferry Service Update: Campbell River - Quadra Island
BC Ferries Update On The Powell River Queen Ferry
The Bowen Queen will temporary take over Campbell River - Quadra Island ferry service Sep.30 through Monday, Oct. 23.
The Powell River Queen, the ferry providing regular service on this route will be dry-docked for scheduled maintenance until Oct.24 when she will return to service

As the MV Bowen Queen has limited over-height space, BC Ferries advises that all vehicles over 6'8" in height will be sorted to the over height lanes to maximize loading capacity.

---
Monday, October 02, 2017
Ferry Travellers Going to/thru Canada from a US port
Ferry Travellers Crossing a Border Require A Passports
As the only reliable and universally-accepted travel and identification document for the purpose of international travel, a passport is required for anyone over the age of 18 years who is crossing a border.
Travellers disembarking the ferry in Haines AK and planning drive to Anchorage etc must carry a valid passport.

For Detailed Canada Customs information call 1-800-461-9999 • www.cbsa-asfc.gc.ca

For detailed ferry information call 1-800-686-0446 • www.ferrytravel.com

---
Thursday, September 28, 2017
More Efficient Alaska Ferries On the Horizon ?
Smaller Alaska Ferries & Public Management Discussed
September 20 saw the annual Southeast Conference meeting in Haines discuss a near-final draft plan to reform how the Alaska Marine Ferry system is both managed and operated.

The plan calls for replacing some ferries with smaller, more efficient vessels; for creating an independent corporation to buffer the ferry system from shifting political priorities, and enabling the new corporation to negociate its own labor contracts.

The proposed new public corporation would have its own staff overseen by a seven-member board appointed by the governor and would continue to receive state and federal funds.

---
Thursday, September 28, 2017
Ferry Travel Cross Border Information
US citizens travelling to/thru Canada from the US
As the only universally-accepted travel and identification document for the purpose of international travel, passports are required for anyone over the age of 18 years who is crossing a border.
For ferry passengers disembarking in Haines AK and driving toward Anchorage/ Fairbanks or to the Kenai Peninsula, a passport will be required as the Alcan Hwy dips into Canada for a short time, before returning to Alaska.
For more detailed Canada Customs information call 1-800-461-9999 • www.cbsa-asfc.gc.ca
For more detailed ferry information call 1-800-686-0446 • www.ferrytravel.com
---
Wednesday, September 27, 2017
Ferry Regulations Regarding Firearms
Firearms on Ferries
Firearms can be transported on ferries as long as the chambers are empty; the weapons are locked and any ammunition is packed separately.

Canada however prohibits all automatic, semi-automatic & hand guns.

Be aware that if travelling to Anchorage / Fairbanks etc. or to the Kenai Peninsula via a ferry to Haines Alaska, you will arrive in Alaska but for a short time the Alcan Hwy will drop into Canada so one can not travel with the prohibited weapons.
Hand-guns etc can be couriered from the mainland US to Alaska.
Alternativly, taking a ferry to Whittier (see "Alaska Ferry Route Map" under Route Map in red line at the top of this page) will completely avoid travelling through Canada.

Ferries to Whittier operate 2x per month March through September and advance reservations made as far in advance are manditory to avoid disappointment.



---
Tuesday, September 26, 2017
BC Ferries: Always Improving the Ferry Experience
Direct Ferry Route Added
BC Ferries will add direct ferry service between Port Hardy and Bella Coola commencing 19 June 2018. The direct Port Hardy - Bella Coola ferry will operate through 01 Oct 2018.
This newest BC ferry service is anticipated to be particularly popular with visitors to BC

---
Monday, September 25, 2017
V2V ferry to resume service
Vancouver -Victoria Ferry to Resume Service in October
After determining in August that the V2V Empress would be better served with new engines, the recently launched ferry service connecting foot passengers between Vancouver BC and Victoria BC is scheduled to return to ferry service in late October 2017.

The V2V Empress is a 254 high-speed catamaran launched in May 2017 to provide luxury, passenger-only ferry service between downtown Vancouver and downtown Victoria.

The newly refitted ferry is expected to travel a reduced schedule: Friday, Saturday, Sunday and Monday through to the end of April when daily service will be reinstated.

The winter schedule - still to be confirmed - has the ferry tentatively departing Vancouver at approx 9:00am and returning from Victoria at 2:30pm.

---
Sunday, September 24, 2017
Save 30% in BC Ferries gift shop
BC Ferries Gift Shop Sale
For a limited time, get 30% off the entire collection of Baggallini bags sold in the BC Ferry Passages gift shop.
Sales extends 'till until 02 November 2017.
Some restrictions apply.


---
Saturday, September 23, 2017
New Ferry Victoria to Vancouver (Passenger only)
Clipper Vacations to Launch New Ferry Service

The newest passenger ferry route between downtown Vancouver and Victoria is on track to begin service next spring.
Clipper Vacations will provide another option to those wanting to travel by ferry between Vancouver and Victoria.

The acquisition of a 52-metre, high-speed catamaran able to carry 579 ferry passengers is scheduled to make one round-trip sailing each day.
The ferry will depart Vancouver in the morning and sail from Victoria in the afternoon.

Call 1-800-686-0446 for more information

---
Friday, September 22, 2017
Mechanical Issues Delay Alaska Ferry MV Matanuska
MV Matanuska Delayed
The Ketchikan to Prince Rupert ferry sailing scheduled for Friday September 22nd has been delayed due to mechanical issues.
Please double check with your booking agent to obtain a revised schedule.


---
Friday, September 22, 2017
Alaska Ferry MV LeConte Service Disruption
Alaska Ferry MV LeConte Sailings Cancelled 22, 23 & 24 September
The MV LeConte has been cancelled for Friday September 22, Saturday September 23rd and Sunday September 24th due to a mechanical issue.
More information can be obtained by calling 907-228-6836.
---
Friday, September 22, 2017
Alaska Ferry Sells for $300,000
Alaska Marine Ferry MV Taku Sold
The Alaska Department of Transportation has accepted a $300,000 bid from a Portland Oregon company to purchase the 50 yer old M/V Taku.


The MV Taku equiptment not included in the sale is slated to be used on the new Alaska Class ferries and on the remainder of the Alaska ferry fleet on an
as-needed basis.

Once relocated in Oregon,
the purchasing company (
KeyMar LLC

) intends to refit the MV Taku for use as a floating hotel.


---
Saturday, September 09, 2017
Alaska Cross-Gulf Ferries ( Whittier, Valdez, Homer)
Alaska Ferry / Ferries to Whittier, Homer, Valdez
The cross -gulf ferries ( ferries that skip Canada by travelling from Washington to Juneau and then across the gulf to the Kenai Peninsula (Whittier, Homer, Valdez) are now sold out for the balance of 2017.
Ferries travelling Homer to Kodiak and Valdez to Whittier travel year round - it is only the ferries that cross the Gulf of Alaska that terminate service for the winter
The cross-gulf ferries will start again in April 2018.
To travel to Homer, Whittier and Valdez between now and March, take the ferry from Bellingham Washington, to Haines Alaska and then drive on from there. This route requires a passportfor transit through Canada

---
Tuesday, August 29, 2017
Celebrate ! Alaska Ferry Provides Vehicle Drivers 50% off
Alaska Ferry Discounts
Commencing 01 October 2017 vehicle drivers taking ferries to, from and within Alaska, travel at half price.
From 01 October 2017 thru to and inclusive of 30 April 2018, vehicle drivers can save more than 50% of f the summer rate.

---
Thursday, May 11, 2017
Prince of Wales Launches New Service
POW !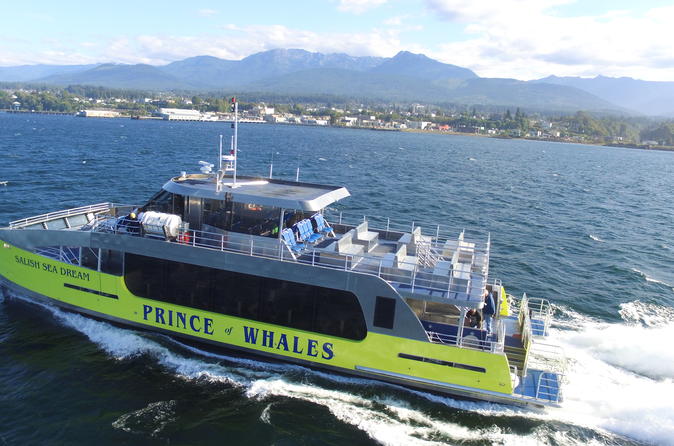 Vancouver -> Victoria -> Butchart Gardens -> Vancouver
all in one day !
P
rince
o
f
W
ales newest 60' vessel enables passengers to travel from Vancouver to Victoria on an exciting 4 hr cruise thru the Gulf Islands.
Spectacular views of the coastline, plus the opportunity to see orcas and humpback whales, seals, sea lions and sea otters combine to make this trip a must.
On arrival in Victoria, tie allows for a bit of shopping and / or sightseeing before hopping onto a Butchart Gardens dedicated bus where you can explore the magnificent blooms and landscaping that has made this Victoria gem World Famous.
After a couple of hrs exploring the gardens, head to the private dock to embark on a sunset cruise back to Vancouver.
---
Wednesday, May 10, 2017
Alaska Ferry Routing Change
Tenakee & Angoon Ferry Routing Change

To accommodate a community basketball event in Angoon on the 13th May, the ferry schedule between Tenakee & Angoon has been reversed.

For further ferry information call 1-800-686-0446

---
Wednesday, May 10, 2017
New Luxury Ferry Service Vancouver to Victoria
Congratulation V2V Vacations !
Motor Vessel V2V Empress
May 2017 saw introduction of the newest & most luxurious ferry service operating along the west coast.

Travelling daily between Vancouver Harbour (below the Convention Centre) and Victoria's Inner Harbour Terminal at Bellville Street, the V2V Empress carries 245 passengers and offers 3 classes of service.
1) Premium Comfort Service: provides main deck family-style ergonomic leather seating, Wi-Fi and electronic device charging and is the most economical.
One way is $120 Cdn per adult/ $60 per child

2) First Class Service: provides Upper Deck seating, Wi-Fi, electronic device charging and includes a complimentary 3-course meal on fine plate-ware (family-style seating is optional)
One way is $199 Cdn per passenger

3) Royal Class Service: with reclining leather seats on the premium deck, this class provides the most luxurious ferry service . Included is Wi-Fi, electronic device charging plus a complimentary 3- course meal, coffee & tea.
One way is $240 Cdn pp
No matter which class one chooses to travel, this 3hr 30 minute cruise provides every passenger with some of the most spectacular coastal scenery found anywhere in the world.
Ferry Sailing Schedule
Vancouver Departure at 08:00h (with a 07:00h check-in/boarding)
Victoria Departure at 14:00h (with a 07:00h check-in/boarding)
---
Monday, March 27, 2017
Alaska Ferry Cancellation
Alaska Ferry MV Aurora



Radar System Issue Causes Alaska Ferry Cancellation
Ferry service from Cordova-Tatitlek-Whittier is cancelled for 28th March 2017.
For more information call 1-800 642 0066


---