---

Wednesday, November 03, 2010
Bellingham Washington to Whittier Alaska direct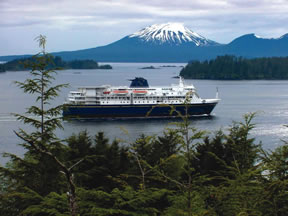 MV Kennicott


Great news for travellers planning to ferry from Washington to Alaska this summer.
Commencing 07 May 2011 Alaska Marine will offer direct cross-gulf service from Bellingham to Whittier on alternate Saturdays.
The reverse ferry service, Whittier to Bellingham will commence 31 May.

Whittier is approximately 60 miles from Anchorage

Ferry schedules, fares, online reservations and general information on all Alaska ferry sailings can be found at www.ferrytravel.com or by calling 1-800-686-0446

Reservations for the 2011 cross-gulf service began at the start of October so planning & early booking is essential

---
Wednesday, November 03, 2010
Weekly Summer Service Juneau to Gustavus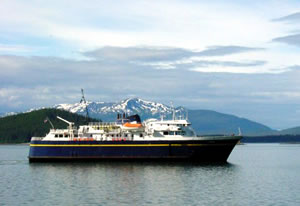 MV LeConte

The popularity of Gustavus (Gateway to Glacier Bay National Park) has resulted in easier & more frequent connections via Juneau being added by the Alaska Marine Hwy.
Weekly ferry service Juneau to Gustavus will commence May 2010.
Call 1-800-686-0446 for reservations

---
Wednesday, November 03, 2010
Added Ferry Sailings for 15 Dec 2010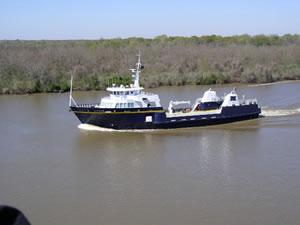 MV Lituya
MV Lituya will add sailings on Wednesday, December 15th for the Annette Island School District dedication ceremony.
Additional ferry schedule information is available by calling Alaska Marine at 1-907-465-3941
---
Tuesday, October 26, 2010
Alaska Cross-Gulf Ferry Schedules 2011 ( May thru Sept )
Bellingham WA ferry to Whittier AK



Great news for travellers needing a direct ferry route from Bellingham WA to Whittier AK

May 2011 sees the start of direct ferry service between Bellingham in the Lower 48 and Whittier AK- no more having to spend a night in Ketchikan or Juneau etc before boarding the ferry across the gulf.

This year will see 2 Northbound ferries per month begining service in Bellingham and travelling straight through to provide cross-gulf service

Call 1-800-686-0446 for the lowest rates and most current Alaska ferry information

---
Wednesday, October 20, 2010
Tax refund provides a fare reduction on BC Ferries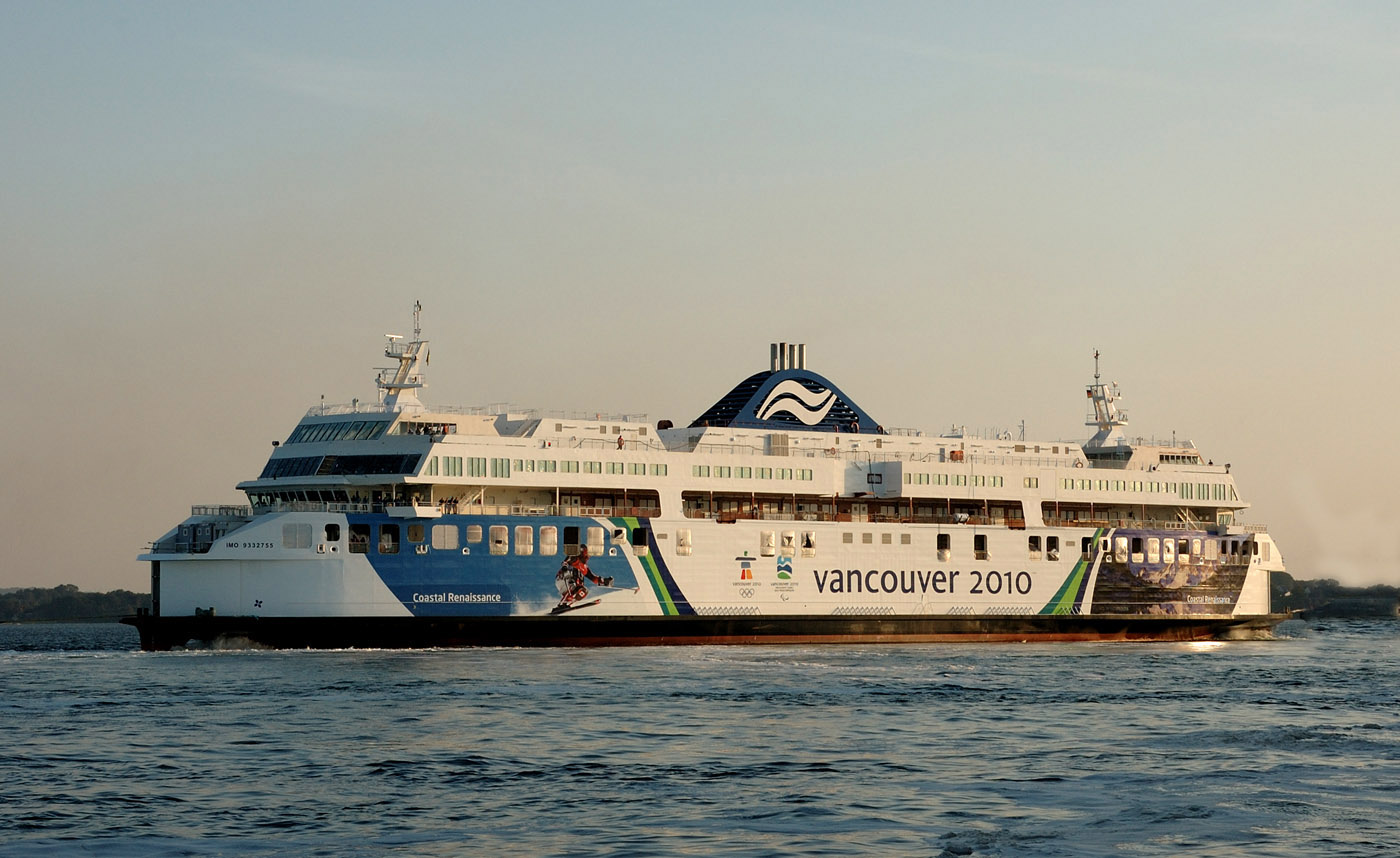 The successful defense by BC ferries that their German built Super C class vessels could not have been built in a Canadian shipyard has resulted in an import tax refund of something like 120 million for the corporation
The result of this refund will be a fare reduction commencing 22 October 2010

Providing service between Vancouver and Vancouver Island the popular Super Cs -Coastal Renaissance, Coastal Inspiration and the Coastal Celebration are the largest double-ended ferries in the world

---
Tuesday, October 19, 2010
Passports required for Ferry Travel between countries
Beginning 01 June 2009, passports became the required form of ID to re-enter the US after travel through Canada - whether by air, land or sea.

Passports are now the basic identification document necessary for travelers ferrying between the US & Canada.

Passengers who travel on the following ferries need passports:
Prince Rupert to Alaska ferry
Seattle to Victoria ferry
Bellingham to Victoria ferry
Anacortes to Victoria ferry
Port Angeles to Victoria ferry,
or the Friday Harbor to Victoria ferry

Additional information on all US / Canadian ferry ports along the BC AK & WA coast can be found at www.ferrytravel.com


---
Sunday, October 17, 2010
Ferry-Hotel Package Special: Seattle to Victoria BC
Seattle - Victoria BC Ferry / Hotel Special





James Bay Inn

-

3 Night Package 

Offer

is based on 2 adults travelling between 01 October, 2010 thru 28 Feb, 2011
1) Ferry Seattle-Victoria round trip
2) Stay 3 nights at the Chateau Victoria incl all taxes


Total Cost 300.00

incl all taxes (subject to availability)

Call 1-800-686-0446 for reservations
---
Sunday, October 17, 2010
Seattle - Victoria BC Laurel Inn Special:
Ferry + 1 night at the Inn at Laurel Point Victoria BC
(01 October, 2010 thru 31 Dec, 2010 )

1) based on 2 adults
2) Ferry Seattle-Victoria Return
3) 1 night stay at the Inn at Laurel Point
4) balcony room overlooking the water
Total Cost 258.00 incl all taxes

Call 1-800-686-0446 for reservations
---
Sunday, October 17, 2010
Seattle Victoria Ferry - Hotel Special
Ferry + Chateau Victoria - 3 Night Package




Offer Good



01 Oct thru 28 Feb, 2011
Based on 2 adults travelling this offer includes
2) Ferry Seattle-Victoria Return
2) 3 night stay at the Chateau Victoria
3) all taxes


Total Cost 358.00



Call 1-800-686-0446 for reservations
---
Saturday, October 16, 2010
AMHS Winter Specials: Drivers travel free
AMHS Winter Specials

: Drivers travel free
Save as much as 363.00 between Bellingham WA and Skagway AK from 01 October 2010 through 31 April 2011.
Book or get lowest fares online at www.ferrytravel.com
---
Saturday, October 16, 2010
BC FERRIES WINTER SCHEDULE 2010
Commencing Oct. 12 ferry travellers headed to the Lower Mainland will need to use the Duke Point-Tsawwassen ferry if travelling after 7pm at night.
The winter schedule for B.C. Ferries is now in effect & means ferry travellers headed to Vancouver Mon thru will need to use the Duke Point-Tsawwassen route if planning a 9pm departure
Ferry schedules for the Departure Bay -Horseshoe Bay route will extend to 9pm sailings Fridays, Saturdays, Sundays; over Christmas & for the Nov. 10 - Nov. 11 Remembrance Day holiday

---
Thursday, February 28, 2008
Ferry Savings between Vancouver BC & Nanaimo BC
BC Ferries: Victoria BC
Throughout March ferry passengers travelling between Vancouvers' Tsawwassen terminal and Nanaimos' Duke Point terminal will enjoy savings of 5.00 per passenger & 15.00 per passenger vehicle.
This special applies to all sailings March 01 thru March 31, 2008
---
Thursday, February 28, 2008
BC Ferries announces Vancouver - Victoria Specials for March
BC Ferries: Victoria BC Canada
BC Ferries will offer fare savings every Sunday through March 2008 on both the 0700h and 0900h sailings between Vancouver's Tsawwassen terminal and Victoria's Swartz Bay terminal
The special fares will provide a saving of $5.00 for each passenger & 15.00 for each passenger vehicle
---
Friday, February 22, 2008
Fares on BC Ferries projected to rise by year's end
Victoria BC Canada: BC Ferries
The new carbon tax announced Feb 21,2008 will see B.C. Ferries will pay 2.76 per litre for light diesel fuel from July 1, 2008 rising to 8.27 cents in 2012.
This tax may well cause BC Ferries to raise their current fuel surcharge in the not to distant future

The current fuel surcharge on the Vancouver to Vancouver Island routes is currently $3.65 on a $47 fare, bringing the crossing total to $50.65
Far more significant however are the current surcharges on larger vehicles travelling between Port Hardy & Prince Rupert.
Northern route fuel surcharges on a vehicle fare of 300.00 are currently 34.10 and on a vehicle fare of 480.00 are 97.00.
The big question is will increased fuel charges negatively impact the tourist decision to gain access to Alaska by travelling Hardy - Rupert ?
---
Monday, February 11, 2008
BC Ferry Valentines Day promotion on over 80 sailings
VICTORIA
, BC
– BC Ferries

Reduced fares to and from Vancouver Island will see passengers save 5.00 & vehicles save 15.00 off regular fares on the following routes & sailings

Tsawwassen – Swartz Bay 0700 & 0900 sailings, February 15, 16 & 17

Tsawwassen – Duke Point: all sailings 0700hrs thru 2100hrs February 15, 16 & 17
---
Wednesday, February 06, 2008
BC Ferries newest vessel hosts Open House
Victoria BC Canada: BC Ferries
Scheduled to officially commence service between Nanaimo's Departure Bay terminal & Vancouver's Tsawwassen terminal mid March , the Coastal Renaissance will berth at Ogden Point in Victoria to give the public an early preview of the ship & her amenities.
From 12 noon to 5pm on February 09, 2008 the public is invited to an open house aboard the Super C class Coastal Renaissance.
Ogden Point, 187 Dallas Road Victoria BC (plenty of parking available)
---
Thursday, January 31, 2008
2008 Alaska Ferry Schedules Now Available
Juneau, AK: Alaska Marine Ferries
Schedules and fares for the May - September 2008 summer sailings have just been release & are now available for booking.
Normally released in the late fall, the scheule delay has been blamed on the efforts of the State to bring the costs of operating the ferry system into line.
---
Wednesday, January 23, 2008
MV Tustumena cancelled February 3rd & 4th, 2008
Juneau, Alaska: Alaska Marine
Alaska Marine advises that the following Tustumena sailings have been cancelled:
03 February 2008 Whittier to Cordova
04 February 2008 Cordova to Whittier
Please call 1-800-686-0446 to re schedule
---
Tuesday, January 22, 2008
Summer Reservations for Alaska ferries
Juneau Alaska: Alaska Marine Highway
The summer 2008 ferry schedules & fares for the May thru September period are now expected in early February.
To get on to the Reservation Request List call 1.800.686.0446
---
Monday, January 21, 2008
BC Ferries newest vessel in Vancouver for open house
Victoria BC: BC Ferries
In the first of three open houses, more than 4,000 visitors boarded B.C. Ferries newest vessel as she sat in Vancouvers' Coal Harbour beside Canada Place

The MV Coastal Renaissance is able to carry 1,650 passengers and crew, & is the first of three Super C-class passenger/vehicle ferries ordered from Germany by the corporation.
She is expected to begin service between West Vancouver & Nanaimo on Vancouver Island in March

Visitor comments were enthusiastic & ranged from, "It's huge -- it's amazing; & I like the colour of the interior" to "The passengers get the priority now, where before, the bridge always had the best view."
---