---

Wednesday, January 23, 2008
MV Tustumena cancelled February 3rd & 4th, 2008
Juneau, Alaska: Alaska Marine
Alaska Marine advises that the following Tustumena sailings have been cancelled:
03 February 2008 Whittier to Cordova
04 February 2008 Cordova to Whittier
Please call 1-800-686-0446 to re schedule
---
Tuesday, January 22, 2008
Summer Reservations for Alaska ferries
Juneau Alaska: Alaska Marine Highway
The summer 2008 ferry schedules & fares for the May thru September period are now expected in early February.
To get on to the Reservation Request List call 1.800.686.0446
---
Monday, January 21, 2008
BC Ferries newest vessel in Vancouver for open house
Victoria BC: BC Ferries
In the first of three open houses, more than 4,000 visitors boarded B.C. Ferries newest vessel as she sat in Vancouvers' Coal Harbour beside Canada Place

The MV Coastal Renaissance is able to carry 1,650 passengers and crew, & is the first of three Super C-class passenger/vehicle ferries ordered from Germany by the corporation.
She is expected to begin service between West Vancouver & Nanaimo on Vancouver Island in March

Visitor comments were enthusiastic & ranged from, "It's huge -- it's amazing; & I like the colour of the interior" to "The passengers get the priority now, where before, the bridge always had the best view."
---
Thursday, January 17, 2008
Border Crossing Documents
Border Crossing ID Reminder - Effective January 31, 2008
Canadian travellers are reminded that effective Jan. 31, 2008 oral declarations of citizenship alone will no longer be accepted by U.S. Customs.
Requirements for Canadian and US citizens seeking entry into the United States through a land or sea border will be as follows:
1) Canadian and US citizens ages 19 and older will need to present a government-issued photo ID, such as a driver's license, along with proof of citizenship, such as a birth certificate or naturalization certificate.
Children ages 18 and under will only be required to present proof of citizenship, such as a birth certificate.
Passports and trusted traveller program cards – NEXUS, SENTRI and FAST – will continue to be accepted for cross-border travel.
All existing non-immigrant visa and passport requirements will remain in effect and will not be altered by this change. For further information, visit http://www.dhs.gov/xnews/releases/pr_1196711811270.shtm
---
Friday, January 04, 2008
Temporary suspension of travel on BC Ferries Hardy, Rupert, & Queen Charlottes routes
BC Ferries: Victoria BC Canada
All travel on the BC Ferries motor vessel Northern Adventure between Port Hardy, Prince Rupert & the Queen Charlottes has been temporarily suspended following an engine shutdown.
BC Ferries reports that the shutdown resulted from use of the wrong lubricating oil so was a human error and had nothing to do with the engine
BC Ferries bought the 117-metre ship from Greece and launched it on the northern routes in March 2007
---
Thursday, December 27, 2007
Alaska Marine reduces sailings from Washington State into Alaska
Sitka Alaska: Alaska Marine Highway
Sita news reports that Alaska Marine has proposed cancelling the Tuesday sailing that traditionally operated between Bellingham Washington & Alaska during the busy May - September travel period.

The MV Columbia, which returns to service in May, will provide weekly service each Friday at 1800h (6:00pm) betweem Bellingham & Washington.
Travellers unable to get space on the Columbia in Bellingham will be encouraged to begin their travel up the Inside Passage from Prince Rupert BC.
Call 1-800-686-0446 or email info@ferrytravel.com for current information
---
Thursday, December 27, 2007
Schedule Change for the MV Tustumena
Juneau Alaska: Alaska Marine

Due to severe weather conditions, the M/V Tustumena is running approximately 24 hours behind schedule.

The sailing scheduled for Saturday December 29, 2007 from Homer to Kodiak and return to Homer has been cancelled.

Travelers scheduled on the M/V Tustumena should call their local ferry terminal or (800) 642-0066 for the latest sailing and arrival information.
---
Thursday, December 27, 2007
Alaska Marine Schedule / Fare delay for 2008 May - September
Juneau Alaska: Alaska Marine Highway
It was announced today that the May through September 2008 schedules & fares for Alaska Marine Ferries will be released mid-February
For information on Reservation Request Lists call 1.800.686.0446
---
Wednesday, December 19, 2007
Release of 2008 Alaska ferry schedules delayed to February
Juneau, AK: Alaska Marine
It was announced today that the release of the Alaska Marine ferry timetables & fares for May thru September 2008 has been delayed until mid-February.
Travellers with an idea of approximately when they wish to travel are encouraged to call 1-800-686-0446 (toll free) or email info@ferrytravel.com to register their names on the Space Request forms.

Travellers who have made a space/reservation request will be contacted on release of the 2008 schedules & all requests will be filled in priority sequence
---
Wednesday, December 19, 2007
Ferry Fare Savings on BC Ferries
Victoria BC Canada: BC Ferry Corp
CoastSaver fares will be available on all ferry sailings between the Tsawwassen (Vancouver) and Duke Point, (Nanaimo) terminals every day from December 19/07 though January 6/08.
During this period, customers will be able to save $5 per passenger and $15 per vehicle (Max length 20').

CoastSaver fares are also available on both the 07:00 am and 09:00 am Sunday ferry sailings between Tsawwassen (Vancouver) and Swartz Bay (Victoria).

Over 275 ferry sailings between the Lower mainland & Vancouver Island will be discounted this holiday season.
---
Wednesday, December 19, 2007
Extra Ferry Sailings Scheduled Over the Holiday season
VICTORIA – BC Ferries
More than 120 extra ferry sailings between 20 Dec & 06 January have been added to the regular schedules for travel between Vancouver, Victoria & Nanaimo

Although reservations are always optional they are recommended & especially for any travel on Dec 26 & 27th which are traditionally the busiest days of the year for ferry travel
---
Tuesday, December 18, 2007
Details on BC Ferries Newest Vessel
Victoria: BC Ferries
Commencing March 2008, the newest vessel in the BC Ferries fleet MV Coastal Renaissance will serve the Vancouver - Nanaimo (Horseshoe Bay - Departure Bay) route

One of the largest double end type ferries in the world at 160 meters long & 28 meters wide, the Super C-Class vessel is able to carry approximately 1,600 passengers and 360 vehicles


Displaying a photographic invitation for the 2010 Olympic Games, the Coastal Renaissance sails into Vancouver prior to sailing to her new home in Nanaimo on Vancouver Island
---
Friday, December 14, 2007
Coastal Renaissance: Newest ship in the BC Ferry Fleet
Vancouver BC: BC Ferries
48 days after departing the shipyard in Germany where she was built, the newest ferry to join the BC Ferry fleet entered Burrard Inlet under the Lions Gate Bridge in Vancouver mid-day December 13, 2007

Built in Germany, the Coastal Renaissance (as a Super-C class vessel the largest double ended ferry in the world), will hold 370 cars and 1,600 people.
She is slated to enter service between Departure Bay (Nanaimo) and Horseshoe Bay in West Vancouver in early spring 2008.
---
Thursday, December 13, 2007
BC Ferries: New C Class Vessel arrives into Vancouver
Victoria BC: BC Ferries
BC Ferries new Super C-class ferry, Coastal Renaissance, has arrived in BC from Germany.
Showcasing a massive photographic invitation to the 2010 Olympic and Paralympic games on her hull, the ship sailed under the Lions Gate Bridge around mid-day Dec 13.
After circling Vancouver Harbour for photographic opportunities she will make her way to her new home in Nanaimo on Vancouver Island
The newest vessel in the BC Ferries fleet was built in Germany and her voyage to British Columbia has included stops for refuelling at Brunsbuettel, Germany; Las Palmas, Canary Islands; and Cristobal, Panama.

The vessel went through the Panama Canal on November 21, and has travelled up the west coast of Central and North America to British Columbia.
---
Thursday, December 13, 2007
Seattle-Victoria Ferry Out of Service Jan 03 thru Jan 17, 2008
Seattle: Clipper
Annual dry-dock service is scheduled between 03 January and 17 January, 2008 for the Seattle-Victoria ferry (Victoria Clipper).
Ferry service will resume between Seattle & downtown Victoria, January 18, 2008

Ferry Service to Vancouver Island from Washington State will be available during the 03 Jan-17 Jan period through both Anacortes (Reservations 206-464-6400) and Port Angeles ( Reservations 360-457-4491).
BC Ferries operates a minimum of 8 daily passenger/vehicle sailings, year-round between Vancouver (Tsawwassen Terminal) and Victoria (Swartz Bay terminal)
Reservations for Seattle- Victoria 2008 can be made at www.ferrytravel.com

---
Thursday, December 13, 2007
Give the gift of Travel on BC Ferries
Victoria BC: BC Ferries
BC Ferries' Gift Certificates are available in $10, $25 and $50 denominations and may be used to pay for fares, onboard purchases in the Gift Shops and Restaurants, or for admission to the Seawest Lounge
(the Seawest Lounge is onboard the Spirit vessels between Vancouver & Victoria).
---
Tuesday, November 27, 2007
Bellingham - Victoria ferry resumes sailings mid-May 2008
Bellingham WA: VSJC
The Bellingham to Victoria ferry service is now over for 2007 but will begin again mid May 2008.
The 3 hr narrated trip to BCs capital city Victoria travels through the San Juan Islands and is enormously popular
Travellers arriving into Bellingham on the Alaska Marine ferry at 0800h can walk to the adjacent pier in the Port of Bellingham and continue their ferry travels on board the Island Commuter bound for Victoria at 0900h

---
Friday, November 23, 2007
Alaska Ferry Passage on SALE
Alaska Marine: Juneau AK
Between October '07 & April '08 vehicle drivers using the ferries on any route in AK will travel FREE
PLUS from November '07 thru the end of March '08 save an additional 30% on vehicles & passengers when booking a mirror image round trip[ a mirror image meand each component is identical on both the outbound & inbound journeys )
---
Thursday, November 15, 2007
Seattle-Victoria Ferry from $101.00 Round Trip
Seattle WA: Clippers Passenger-Only Ferry Service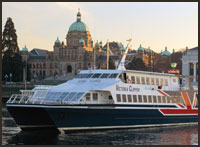 Special winter fares providing round-trip passage between Seattle WA and Victoria BC are available for 101.00* per adult through December 31/2007.
Reservations (1.800.686.0446) must be made 24 hrs in advance of travel and are subject to availability. * Price includes fuel surcharges
---
Wednesday, November 14, 2007
BC Ferry Gift Certificates in Time for Holiday Giving
BC Ferries: Victoria BC
BC Ferries gift certificates are now available in $10, $25 & $50.00 denominations.
The certificates can be used to pay fares, or for onboard purchases in the restaurants, Seawest lounges or make purchases in the gift shops.
A great holiday gift for both the regular ferry traveller and that special someone who would enjoy a mini cruise
---