---

Thursday, October 11, 2007
Seattle- Victoria Empress-Ferry package
SEATTLE- VICTORIA: ferry-hotel package
Fairmont packages from $336.00 for 2 Adults (additional nights @ 168.00)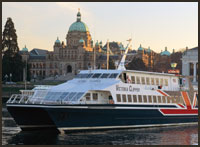 Clipper+Empress Package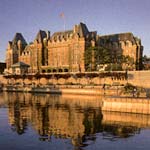 Built in the early 1900s by Canadian Pacific, this historic downtown hotel has long been a favorite of visitors to Victoria.
A gracious presence overlooking the Inner Harbour, an indoor pool; internet & consierge services & on premises restaurants.
Adjacent to the Victoria Conference Center & the Empress is now pet friendly.
Package for 2 Adults includes
-round trip ferry Seattle-Victoria
-champagne continental breakfast enroute
-1 night stay in a std king room at the Fairmont Empress
-land transportation between terminal & hotel -
-all taxes & luggage handline
Package is based on double ocupancy (ie 168.00 pp); is subject to availability and other restrictions may apply
email info@ferrytravel.com
---
Thursday, October 11, 2007
November 1 signals BIG ferry savings
Alaska Ferries: Juneau AK
Passengers travelling round-trip on the Alaska ferries between November 01/07 and March 31/08 will receive a 30% discount on their passenger and vehicle fares.
The discount applies to all ferries and the only stipulation is that the trip must be a "mirror image".
Tickets may be purchased on line at www.ferrytravel.com, by calling toll free 1-800)681-1811
---
Tuesday, October 02, 2007
Le Conte schedule change
Alaska Marine: Juneau, Alaska
The following changes have been made to the MVLeConte schedule
Oct 13/07: An additional departure has been added from Angoon at 12:30h
Oct 16/07: The Le Conte will depart Juneau at 0500h
Dec 19/07: the LeConte will depart Juneau at 0700

For updates or further information on the Alaska ferry sailings email info@ferrytravel.com
---
Tuesday, October 02, 2007
Alaska Ferry Schedules May - Sept 2008
JUNEAU, AK: Alaska Marine Ferries

The 2008 summer schedules (May-Sept) for Alaska ferries are now expected to be confirmed & published in December 2007.
Sailing request lists have been started (1-800-686-0446) and traveller requests will be filled in priority sequence on release of the new schedules
---
Tuesday, October 02, 2007
Extra Sailings Between Vancouver - Victoria for Thanksgiving Weekend
VICTORIA
– BC Ferries
7 extra sailings have been added to the regular schedule between Tsawwassen & Swartz Bay & 6 extra sailings have been added between Swartz Bay & Tsawwassen over the Thanksgiving long weekend.
As traffic warrants, extra sailings will be added on the Horseshoe Bay ( West Vancouver) – Departure Bay Nanaimo) route throughout the weekend.

On Monday, October 8, an extra late night sailing will depart Langdale at 10:10 pm bound for Horseshoe Bay.
To see the full list of sailing times both for the Vancouver & Victoria ferries, go to www.ferrytravel.com/TSW-SB.htm
---
Monday, October 01, 2007
BC Ferry Specials: 01 Oct 2007 thru 30 April 2008
VICTORIA
– BC Ferries
Between October 1, 2007 and April 30, 2008, select BC Ferries sailings will be discounted

by $5 per passenger and $15 per under-height vehicle (under 7' high).
The discounted fares will be available on the Tsawwassen – Duke Point route on all Saturday and Sunday sailings.
The same discounted fare pricing will also be available for Sunday morning sailings departing from both Tsawwassen & Swartz Bay at 7:00am and 9:00am
---
Thursday, September 27, 2007
Delta Ocean Pointe at 50% off for 2nd night
Seattle -Victoria BC: Ferry-Hotel Special
Delta Ocean Pointe Package Includes:

Round trip ferry between Seattle & Victoria
Complimentary breakfast enroute
2 nights in the 4-diamond Delta Ocean Pacific Resort
Land transportation between terminal & hotel
All taxes included.
Subject to space availability. Some restrictions may apply
Email reservations@ferrytravel.com for details

---
Wednesday, September 26, 2007
Seattle-Victoria Ferry Specials
Victoria, BC: Winter Savings commence in October
October in Victoria welcomes the arrival of some superb package specials.
Participating in the traditional fall/winter promotion are most of the better hotels in Victoria including the famous Fairmont Empress, popular Laurel Point Inn, new Marriott Inner Harbour and numerous other properties

A typical package includes a round trip ferry between Seattle & Victoria; complimentary champagne continental breakfast enroute, 1 night's stay in Victoria, (extra nights can be added) transportation between the terminal & hotel, luggage handling and all taxes.
Package prices including the ferry start as low $107.00pp; are based on double occupancy & are subject to some restrictions.
---
Wednesday, September 26, 2007
Last sailing of the 2007 season for Bellingham-Victoria ferry
Bellingham, WA: Victoria San Juan Cruises
Sunday September 30th will see the end of the summer season for the popular ferry which operates daily May through September between Bellingham WA & Victoria, BC.
Service provided by this passenger-only ferry will resume again mid May 2008.
---
Wednesday, September 12, 2007
BC Ferries accommodates Vancouver Island football fans
VICTORIA, BC – BC Ferries
To enable BC Lions football fans from Vancouver Island to return home after the game on the same day, BC Ferries is providing a late night sailing from Vancouvers' Tsawwassen terminal to Victorias' BC Ferry terminal at Swartz Bay on Saturday, September 15 at 11:30 p.m.
To coincide with BC Lions games late night sailings will also be offered on Saturday, October 20 and Saturday, November 3rd departing from Vancouvers Tsawwassen terminal at 11:30 p.m. bound for Nanaimos Duke Point terminal
These sailings are of couse available for anyone wishing to take advantage of these late ferry sailings- not just football fans !
---
Sunday, September 09, 2007
Alaska Ferry Specials: 30% Saving Plus the driver travels FREE
30% DISCOUNT ON ROUND TRIPS Nov/07- March /08
PLUS, the DRIVER TRAVELS FREE
JUNEAU, AK: Alaska Marine Ferries
Starting November 1st, passengers who purchase a "mirror image" round trip on the ferries to and inside Alaska will receive a 30% discount on their full price adult or child passenger and vehicle fare.
The discount applies to all travel from Bellingham and Prince Rupert and extends throughout the system
Tickets can be purchased any time on line at www.ferrytravel.com, or by calling toll-free 1-800-686-0446
Travel must commence on or after November 1st, 2007 and be complete on or before March 31st, 2008.
---
Thursday, August 30, 2007
BC Ferries Summer schedule extended thru Labour Day Long Weekend
VICTORIA –BC Ferries' is extending its peak summer schedule through Labour Day
From August 31 to September 4, over 265 sailings are scheduled between the Lower Mainland and Vancouver Island to accommodate long weekend demands.
Extra service is also scheduled between Horseshoe Bay and Langdale, as well as the Southern Gulf Island routes.
The Tsawwassen and Swartz Bay route, the busiest route in the fleet, will continue to be served by four vessels operating daily through Sunday, September 9.
Reservations are recommended (1.888.223.3779) for customers requiring e a specific sailing as part of their long weekend

---
Tuesday, August 21, 2007
Alaska Ferry Reservations Oct 07-April 08 Now Available
Alaska Marine Ferries: Juneau AK
Schedules and/or Reservations for ferry travel to, from & in Alaska between October 2007 and April 2008 are now available online at www.ferrytravel.com.
If cabin space is important be sure to book as early as possible
---
Friday, August 17, 2007
Alaska FERRY Advisory
Alaska Ferry Travel
Resulting from the early removal of the MV Columbia from service for the balance of the Summer/Fall season, space on the MV Malaspina travelling north from Bellingham WA into Alaska, and south from Alaska to Bellingham, is unusually tight.

Travellers planning ferry travel into or out of Alaska are advised to make their booking requests asap.
Online booking is available at www.ferrytravel.com or an agent can help with bookings by phone at 1-800-686-446
---
Friday, August 17, 2007
ALASKA MARINE FERRY ADVISORY
Alaska Marine Ferry: Juneau AK
The M/V Columbia has been removed from service for the remainder of the summer season due to mechanical problems.
Passengers with existing reservations are being contacted via e-mail or by telephone.
Where possible, passengers are being re-booked onto other vessels or advised to seek alternative methods of travel.
If you have an existing reservation aboard the M/V Columbia, contact the reservation department at 1-800-642-0066
---
Wednesday, August 15, 2007
New Vessels for BC Ferries
VICTORIA –BC Ferries
BC Ferries reports that the first of 3 new Super C-class vessels, the Coastal Renaissance, will depart the shipyard in Flensburg, Germany on September 21.
Upon leaving the shipyard, the ships will make stops in London, Los Angeles, San Francisco and Seattle, where major promotional events will take place.
The Coastal Renaissance is expected to arrive in British Columbia mid-November 2007 and is scheduled to be in service on the Departure Bay (Nanaimo) – Horseshoe Bay (West Vancouver) ferry route in early 2008.
A second vessel, Coastal Inspiration, scheduled to serve the Duke Point (Naniamo) – Tsawwassen (Vancouver) ferry run is expected to arrive three months later, and to be in service in the spring.
The third Super C-class vessel, Coastal Celebration, is expected to arrive and begin service summer 2008.
She will serve the Swartz Bay (Victoria) - Tsawwassen (Vancouver) ferry route

---
Wednesday, August 15, 2007
MV Columbia Sailing cancelled August 17, 2007
Alaska Marine: Juneau
The MV Columbia has been temporarily taken out of service. This has resulted in the cancelletion of the sailing scheduled to depart Bellingham on Friday August 17th.
The vessel may sail northbound from Ketchikan on Sunday August 19th.
For more information please call 1-800-642-0066
---
Wednesday, August 15, 2007
Alaska Ferry Booking Oct '07-April '08 now available
Alaska Marine Ferries: Juneau, Alaska
Schedules for the Oct 07 thru April O8 are now available online.
Reservations reflecting winter discounts can be made securely through www.ferrytravel.com


---
Tuesday, August 07, 2007
Ferry Delays between Duke Point & Tsawwassen
Victoria BC: BC Ferries
Until further notice A modified schedule will be in place for ferry service between Nanaimos' Duke Point terminal and Vancouvers' Tsawwassen terminal.
Please contact BC Ferries at 1.888.223-2779 or 250-978-1267 for the temporary schedule or reservations

---
Wednesday, July 18, 2007
BC Ferry back in business
VICTORIA – BC Ferries
The MV Queen of Oak Bay is scheduled to return to service on BC Ferries' Horseshoe Bay – Departure Bay route at 6:20 a.m. on Friday, July 20, 2007.
---