---

Thursday, March 29, 2007
Waitlists started for Summer travel on the Alaska Ferries
Alaska Marine Highway System: Juneau, AK
Cabin & Vehicle space is now very tight for most of the summer sailings from Bellingham WA into Alaska and from Juneau Alaska across the Gulf of Alaska to Whittier. For more information email info@ferrytravel.com
---
Thursday, March 22, 2007
Nanaimo-Vancouver High-Speed Ferry Service Due To Return



SEALINK FERRY CORP: Nanaimo BC
Ed Life of SeaLink Ferry Corp has announced that high-speed passenger ferry service between downtown Nanaimo & downtown Vancouver will be in place prior to summer 2007
Sporting a brand new Dutch built engine and operating under new ownership, the 40 meter, high-speed catamaran originally operated by HarbourLynx, must complete sea trials & a Transport Canada inspection prior to anticipated service commencement in May
Amenities on board inclyude a snack& coffee bar, washrooms & lounge style seating
---
Wednesday, March 21, 2007
Alaska Marine 2007 Sumer Special
Alaska Marine 2007 Sumer Special:
On any round trip between 01 May - 30 Sept, the licensed driver of any passenger vehicle, (including motorcycles) will travel FREE when making a "mirror image" round trip between any two ports served by Alaska marine ferries.
A mirror image round trip is defined as travel from Port A to Port B with a matched reverse return ( eg Bellingham -Haines, Haines - Bellingham).

Summer vehicle space sells out early so look at your calanders and if this is special fits your plans, reserve space asap 1-800-686-0446.
---
Sunday, March 18, 2007
MV Northern Adventure is magnificent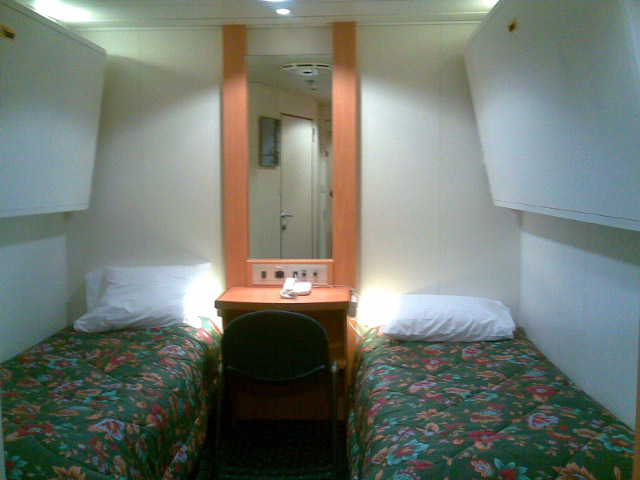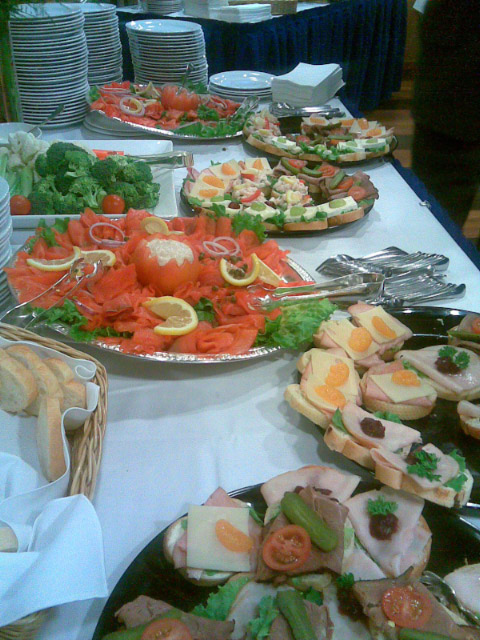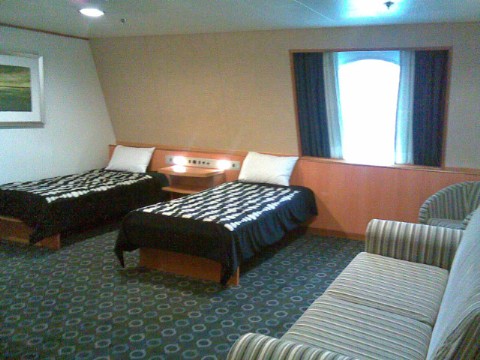 BC FERRIES: Victoria BC
Amongst the amenities on BC Ferries' newest vessel MV Northern Adventure are internet access, spacious 2 & 4 berth (bed) cabins; a gourmet café, childrens' playroom, boutique newsstand and flat screen TVs located throughout the ship.
The ship will serve the 15hr Port Hardy-Prince Rupert route from May through September and for the balance of the year serve the Queen Charlotte Islands.
This is a magnificent vessel, travelling a spectacular route. For more information go to www.ferrytravel.com/insidepassage.htm
---
Sunday, March 18, 2007
Ferry Travel popularity increases
Travel by ferry is becoming increasingly more popular. Always an acceptable, if not preferred means of travel in Britain and Europe, numerous ferry companies do operate in North America, and now a west coast website is providing an efficient and effective means of both booking ferry travel and collecting ferry information
An interesting aspect of travel by ferry is that information on ferry services is usually less well known to travellers (or agents) than the services of other forms of transport - perhaps because there is usually only one operator serving each route
http://www.ferrytravel.com is an informative website that covers all major ferry operators (public and private) in British Columbia, Washington and Alaska.
It also offers suggestions for accommodation on each port page, along with live links to the properties on the various itineraries which enable a quick and easy search of recommended lodging for any ferry served port. Additionally, there is a brief summary on each port served by a ferry.
The site has a secure online booking engine which makes getting quotes or booking a reservable ferry in BC, WA or AK practically effortless.
---
Friday, March 16, 2007
BC Ferries, Victoria BC: MV Northern Adventure on Show
Artists rendering of the MV Northern Adventure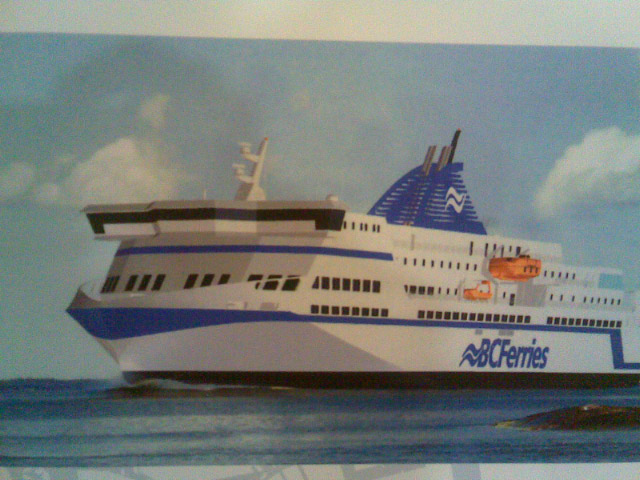 BC Ferries' newest ferry serving the Inside Passage between Port Hardy and Prince Rupert will commence service March 31, 2007.
Purchased in Greece and refitted in Victoria BC, the MV Northern Adventure will be introduced to the public in various ports along the coast through a series of "open houses". All are welcome
Visit the MV Northern Adventure at the following locations:
-Vancouver at Canada Place March 17 between 2:30-5:00pm
-Skidegate at the BC Ferries terminal March 27, 2:00pm -6:00pm
-Prince Rupert at the BC Ferries Terminal March 28, 2:00pm - 6:00pm
-McLoughlin Bay at the BC Ferries Terminal March 29, 2:00pm - 6:00pm
-Port Hardy at the BC Ferries Terminal March 28, 2:00pm - 6:00pm

---
Thursday, March 15, 2007
Ferry Booking Tips
OnLine Ferry Booking Tips for Alaska, BC, Seattle WA & Victoria ferries
Ferry Tickets
1) Early booking is the key to the lowest fares on routes like Seattle- Victoria
2) Tue-Thu travel is usually less expensive for the shorter routes
3) Always book the BC & Alaska Inside Passage ASAP, to secure space
4) Late evening travel is often discounted between Vancouver & Victoria
5) Alaska bookings require date of birth, 1st, middle & last name & citizenship
6) when booking vehicles, the total length, width & height is required
Package Specials
1) Hotel-ferry packages usually provide best pricing & significant savings
2) Packages can include hotels at the departure &/or arrival ports
3) Seattle-Victoria-Vancouver packages include land transportation
Port Hotels
1) Accommodation in Port Hardy on ferry nights is often sold out: book early
2) Prince Rupert hotel space must be booked early
Travel Insurance
1) protects against unexpected trip cancellation or interruption
2) best insurance pricing is often thru an auto association
3) when used to book some credit cards include trip insurance
Customs crossing in Haines Alaska
travellers departing the ferry in Haines and headed N to Anchores should be aware that Canadian customs is open 0700 thru 2300h.
---
Wednesday, March 14, 2007
Passport Requirements for travel by ferry
Passport Requirements for ferry travel between the US & Canada
Until the year 2008, US & Canadian citizens do not need a passport to travel on a ferry between the two countries.

Although a passport is always preferable, picture ID and Proof of citizenship, e.g. a certified copy of your birth certificate and a government issued ID such as a driver's license is sufficient to cross the border by ferry.
Be aware however that if you are travelling between any two countries on any airline, even a float plane, you are required to carry a passport.
---
Wednesday, March 14, 2007
Port Townsend- Keystone ferry services restored
Washington State Ferries' Port Townsend- Keystone services restored


After hull repairs at Todd Dry-dock, the MV Klickitat returned to service between Port Townsend & Keystone March 14, 2007 commencing with the 12:15pm sailing
Washington State Ferries had removed the vessel from service on Monday after a crack in the hull plating was detected.
---
Tuesday, March 13, 2007
40% Saving for vehicle & foot passenger travelling on BC Ferries
Vehicles travel at 20.00 Passengers travel at 5.00
40% savings for foot passengers & standard vehicles to 20'on the following Tsawwassen - Swartz Bay sailings
March 26 through April 04 1pm; 3pm
Fri April 6th 7pm; 9pm
Sat April 7; 14; 21& 28; 5pm; 7pm; 9pm
Sat May 05 & 12; 5pm; 7pm; 9pm|
Sun April 08; 22 & 29 7am; 9am
Tue April 10 1pm; 3pm
May 13 7am; 9am
Swartz Bay - Tsawwassen - Swartz Bay sailings
---
Monday, March 12, 2007
1st of 3 new C-Class ferries expected to commence service in late 2007
BC Ferries: Victoria BC New Ferries Coming Soon
By the summer of 2008, 3 new vessels will have joined the BC Ferries fleet to provide the best possible service between the busy Tsawwassen terminal in Vancouver and the Swartz Bay terminal in Victoria
The double ended ferries will carry 370 vehicles and approximately 1,650 passengers.
The largest and most advanced of their type in the world, these Super C-class vessels will offer a variety of amenities including gift shops, children's playrooms, a business ("quiet") section and dining options from 2 passenger decks.
Watch for updated information on the MV Coastal Renaissance; MV Coastal Inspiration and MV Coastal Celebration
---
Thursday, February 22, 2007
Downtown Nanaimo to Downtown Vancouver Ferry Service Returns
SEALINK CORP : Nanaimo, BC
Ed Life of SeaLink Ferry Corp has announced that high-speed passenger ferry service between downtown Nanaimo & downtown Vancouver will be back in place prior to summer 2007
The 40 meter, high-speed catamaran purchased from HarbourLynx is sporting a brand new Dutch built engine & must complete sea trials & a Transport Canada inspection prior to the anticipated service commencement in May
Amenities on board include a snack & coffee bar, washrooms and relaxing recliner-style chair seating.
---