---

Tuesday, August 29, 2017
Celebrate ! Alaska Ferry Provides Vehicle Drivers 50% off
Alaska Ferry Discounts
Commencing 01 October 2017 vehicle drivers taking ferries to, from and within Alaska, travel at half price.
From 01 October 2017 thru to and inclusive of 30 April 2018, vehicle drivers can save more than 50% of f the summer rate.

---
Thursday, May 11, 2017
Prince of Wales Launches New Service
POW !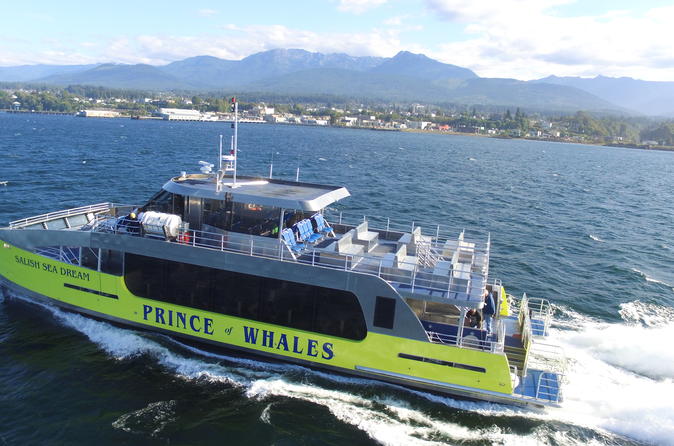 Vancouver -> Victoria -> Butchart Gardens -> Vancouver
all in one day !
P
rince
o
f
W
ales newest 60' vessel enables passengers to travel from Vancouver to Victoria on an exciting 4 hr cruise thru the Gulf Islands.
Spectacular views of the coastline, plus the opportunity to see orcas and humpback whales, seals, sea lions and sea otters combine to make this trip a must.
On arrival in Victoria, tie allows for a bit of shopping and / or sightseeing before hopping onto a Butchart Gardens dedicated bus where you can explore the magnificent blooms and landscaping that has made this Victoria gem World Famous.
After a couple of hrs exploring the gardens, head to the private dock to embark on a sunset cruise back to Vancouver.
---
Wednesday, May 10, 2017
Alaska Ferry Routing Change
Tenakee & Angoon Ferry Routing Change

To accommodate a community basketball event in Angoon on the 13th May, the ferry schedule between Tenakee & Angoon has been reversed.

For further ferry information call 1-800-686-0446

---
Wednesday, May 10, 2017
New Luxury Ferry Service Vancouver to Victoria
Congratulation V2V Vacations !
Motor Vessel V2V Empress
May 2017 saw introduction of the newest & most luxurious ferry service operating along the west coast.

Travelling daily between Vancouver Harbour (below the Convention Centre) and Victoria's Inner Harbour Terminal at Bellville Street, the V2V Empress carries 245 passengers and offers 3 classes of service.
1) Premium Comfort Service: provides main deck family-style ergonomic leather seating, Wi-Fi and electronic device charging and is the most economical.
One way is $120 Cdn per adult/ $60 per child

2) First Class Service: provides Upper Deck seating, Wi-Fi, electronic device charging and includes a complimentary 3-course meal on fine plate-ware (family-style seating is optional)
One way is $199 Cdn per passenger

3) Royal Class Service: with reclining leather seats on the premium deck, this class provides the most luxurious ferry service . Included is Wi-Fi, electronic device charging plus a complimentary 3- course meal, coffee & tea.
One way is $240 Cdn pp
No matter which class one chooses to travel, this 3hr 30 minute cruise provides every passenger with some of the most spectacular coastal scenery found anywhere in the world.
Ferry Sailing Schedule
Vancouver Departure at 08:00h (with a 07:00h check-in/boarding)
Victoria Departure at 14:00h (with a 07:00h check-in/boarding)
---
Monday, March 27, 2017
Alaska Ferry Cancellation
Alaska Ferry MV Aurora



Radar System Issue Causes Alaska Ferry Cancellation
Ferry service from Cordova-Tatitlek-Whittier is cancelled for 28th March 2017.
For more information call 1-800 642 0066


---
Thursday, March 23, 2017
Alaska Ferry Schedule Change
Alaska Ferry M/V Malaspina


Alaska Marine Ferry Schedule Change
To accommodate a special event the sailing schedule for April 11-18, 2017
for the M/V Malaspina has been revised to add two stops in Kake.

---
Wednesday, March 22, 2017
The Salish Eagle Has Landed ( BC Ferries Newest NGF Ferry)

BC Ferries Welcomes its Newest Ferry

The Salish Eagle, BC Ferries second natural gas-fuelled ship has arrived in BC waters and found its home into the BC Ferry fleet reported Mark Wilson, BC Ferries' Vice President of Engineering.

"The Salish Class are well built vessels that will help reduce our environmental footprint and our operating costs."

The LNG-powered Salish Eagle will ferry between the southern Gulf Islands this summer.

---
Friday, March 10, 2017
BIG BC Ferry Savings
Save 50% on BC ferry Passenger Fares

Commencing 11 March 2017, BC Ferries will implement a fleet wide promotion offering 50% off regular passenger fares on select sailings.
Kids under 11 years can travel free during those same times.
For detailed information call 1-800-868-0446




---
Friday, March 10, 2017
BC Ferries Welcomes New Ferry
Dual-Fueled Ferry Arrived in January

The first of the BC Ferries' dual-fuelled Polish built vessels arrived on the coast in January.

One of three mid-sized ferries, the Salish Orca will maximize efficiency as it uses liquefied natural gas
Commencing service this spring the Salish Orca will replace the Queen of Burnaby on the Powell River-Comox route.
Two additional ferries, the Salish Eagle and Salish Raven are expected to go into service on the Southern Gulf Islands runs later this year.
---
Thursday, February 02, 2017
BC Ferries Service Notice
Sechelt (Earls Cove) - Powell River (Saltery Bay)
Commencing 08 Feb 2017, the MV Bowen Queen will replace the MV Island Sky for approximately 1 week.

2 extra sailings will be added to the regular
Saltery Bay-Earls Cove

schedule for the Family Day weekend.

On Feb 10,11,12 &13

there will be a 1:50p sailing fr
om Saltery Bay from Earls Cove a saiing at 2:50

Please note that the MV Bowen Queen is not equipped with an elevator.

Both limited food service offerings &

Washroom facilities will however be available on the Bowen Queen vehicle deck

---
Tuesday, January 31, 2017
Prince Rupert Ferry Payment Policy Change
Alaska Marine No Longer to Accept Cash at Prince Rupert Terminal
Commencing 13 February 2017, travellers boarding the Alaska ferry from Prince Rupert BC to Ketchican AK will be required to use either a Visa, Master, Discover or Debit card to pay for their ferry crossing.
The Alaska ferry terminal will no longer accept US/Cdn currency, travellers checks, money orders or personal cheques

There is no payment policy change for travellers using the BC ferry between Prince Rupert and Port Hardy.

---
Thursday, January 05, 2017
Cordova- Valdez-Cordova ferry rescheduled to sail 05 January
---
Wednesday, January 04, 2017
05 January 2017 Ferry Sailing Cancelled


AMHS Cancels Thursdays Cordova-Valdez-Cordova Ferry
The Alaska ferry scheduled to travel on Thursday 05 January 2017 between Cordova and Valdez and Valdez-Cordova has been cancelled due to heavy winds.

Alaska Marine (1-907-465-3941) will provide further information as it is learned.


---
Wednesday, December 28, 2016
BC Ferries Holiday Sailings
BC Ferry Sailings

BC Ferry sailings between Vancouver Island and the Mainland post Christmas continue to be busy.
Additional sailings have been added at the Swartz Bay, Tsawwassen, Duke Point, Departure and Horseshoe Bay terminals.
For up-to-the hour sailing conditions and possible wait times please call 1-888-223-3779

---
Wednesday, December 28, 2016
Alaska Ferry Departure Change
Bellingham Ferry to Alaska on December 30, 2016
The sailing schedule for the Alaska bound ferry departing Bellingham WA on 30 December 2016 has been changed to depart at 16:00h (4pm).

Be advised that vehicle check-in in Bellingham, is 2 hrs prior to sailing.
For aditional information please call the Bellingham terminal at 1-360-676-8445

---
Thursday, December 08, 2016
BC Ferries Busy Date Forecast

Relieve the Stress and Book a reservation
Christmas is a busy time and with more than normal traffic expected BC Ferries have prepared a calendar showing the dates expected to have the heaviest traffic.
Heaviest Sailings: Tsawwassen (Vancouver) > Swartz Bay (Victoria)
Dec 16th , 17:00
Dec 17th, 11:00 &13:00
Dec 18th, 13:00 thru to 17:00
Dec 19th, 13:00 thru to 17:00
Dec 20th, 11:00 thru 17:00
Dec 21st, 11:00 thru 17:00
Dec 22nd, 11:00 thru 17:00
Dec 23rd, Noon thru 21:00
Dec 24th, Noonb & 13:00
Dec 25,26, Busy all day
Dec 27th, Expected to be busiest day of the holidays.
Although not required on this route, reservations relieve the stress and anxiety of ferry travel

---
Thursday, December 08, 2016
Ferry Legalize


Conditions of Passage
Every transportation company around the globe ( including ferry operators ) have specific "Conditions of Passage or Terms and Conditions". Sometimes these terms & conditions are long and extremely detailed: sometimes they are short & obvious - no loaded guns- no pets above the vehicle deck - etc.

Each operators conditions of passage are shown in several places on this site so that prior to booking, travellers can determine if they are comfortable complying with the terms of both specific ferry operators and of this site use.

Conditions of Passage appear on the FAQ page; the Terms and Conditions page; on all booking references/receipt emails and on all itineraries.

---
Monday, December 05, 2016
BC Ferries Christmas Treat
BC Ferries Christmas Promotion: 50% off all standard vehicles-all routes

Between 14 Nov and 18 Dec 2016 save up to 50% on select sailings between Vancouver - Vancouver Island; the Sunshine Coast; Southern and Northern Gulf Islands. While this discount doesn't apply to passengers, it does apply to standard vehicles to 20'

AND that not all !!!

BC Ferries has extended the savings to cover the Inside Passage; Haida Gwaii; the Discovery Coast connector; Skidegate & Allford Bay

Below are the BC Ferries Terms & Condition for this promotion
"50% Off Standard Vehicles" promotion is applicable to standard vehicles (excludes driver & passenger fares) up to 20 feet in length including motorcycles.
*South Coast Routes: Offer valid on select sailings November 14 – December 18, 2016 on the following routes: Metro Vancouver; Vancouver Island; Sunshine Coast; Southern Gulf Islands; Northern Gulf Islands, in either direction. †Savings reflect Tsawwassen to Swartz Bay route. **North Coast Routes:
Offer is valid on all sailings November 14 – December 18, 2016, on the following routes: Inside Passage; Haida Gwaii; Discovery Coast Connector; Skidegate – Alliford Bay, in either direction. ††Savings reflect Port Hardy to Prince Rupert route.
Discount does not apply to extra foot charges for over-length vehicles. Not applicable for buses, commercial vehicles and bicycles
Experience Card and Northern Resident discounts will be increased to match the promotional discount on promotional sailings. "50% Off Standard Vehicles" promotion is available on BC Ferries Vacations™ packages. Promotion cannot be applied retroactively to existing BC Ferries Vacations™ package bookings. Limited time offer. Other conditions may apply. Please visit bcferries.com for full details on applicable sailings. BC Reg. 48839.

---
Monday, December 05, 2016
BC Ferries Excitement: She's on her way !



The Salish Orca
Having departed Poland on 22 November, BC Ferries 1st natural gas-powered vessel is expected to arrive in BC in January 2016.
Scheduled to begin service in the spring of 2017, the Salish Orca will serve the Comox - Powell River route.
The 1st of three Salish class vessels ordered by BC Ferries, t
he Salish Orca
will be followed by the Salish Raven and Salish Eagle. These two vessels
will replace the retiring Queen of Nanaimo and Queen of Burnaby.
---
Monday, December 05, 2016
Alaska Ferry Schedule Changes
Alaska Marine Sailing Changes
MV Kennicott: 02 Dec 2016 thru 09 Dec 2016
The MV Kennicott
schedule has been revised commencing Friday December 2nd through Friday December 9th. For more information please email info@ferrytravel.com.
MV Fairweather: 26 Dec 2016
To accommodate high-school basketball players travelling to a tournament,
the Fairweather schedule has changed for one day only.
---