Two ferry systems (the Seattle Victoria passenger-only ferry operated by Clipper and the state system operated by Washington State ferries), serve Seattle.

The Seattle to Victoria ferry service (operated by Clipper) is a year-round, high speed service using passenger-only ferries.
Operating within the State and to Sidney BC are the Washington State Ferries (WSF).
WSF are passenger-vehicle ferries serving Bainbridge, Bremerton, Vashon and Whidbey Island.

There are no vehicle ferries travelling Seattle to Victoria - however if visiting Victoria for only a day or two, there is no need for a vehicle.
Most sites & points of interest are located downtown so within walking distance of the Victoria ferry terminal.

Washington State ferries is the largest ferry system in the United States and loading from downtown Seattle to Bainbridge, Bremerton and to Vashon Island is done on a 1st come basis.
Ferry reservations on State ferries are not available except to Sidney BC - an 8 month only service.

Victoria Clipper operates a daily, reservation based, high speed, passenger-only ferry to Victoria BC from Seattle.
This ferry service is an enormously popular year-round and absolutely must be booked in advance. 1-800-686-0446 or online at www. ferrytravel.com/Seattle
The MV Marguerite was a passenger-vehicle ferry but was retired a number of years ago.
Now there is no Seattle ferry to Victoria BC that takes vehicles.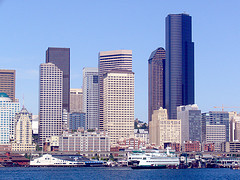 The Seattle ferry docks are located on the downtown waterfront just below Pike Place Market. They are a wonderful place to spend time and one can sit in the sun, have bite to eat, spend time shopping or visit the Seattle Aquarium before boarding a ferry.
If planning a stay in Seattle look at the lodging on the right. The list represents some of the more popular lodgings -all of whom are interested in serving the needs of ferry travellers
General Seattle Information: Land - Sea - Air
Crossing the Border: Know before You Go.
Car/Vehicle Rentals: Avis offices are well located throughout Seattle and the company is interested in serving ferry travellers
Quick Shuttle: Daily luxury coach services between Seattle, Sea-Tac Airport and Vancouver BC
Airporter Shuttle: Daily coach service providing frequent scheduled trips between Sea-Tac Airport & Bellingham, Anacortes and the Whidbey Navel Station
Kenmore Air: Year-round, daily 45 minute float plane service between downtown Seattle and downtown Victoria.
Seattle Aquarium: See, Touch and Explore -the Aquarium located beside the ferry terminals is a great place to discover the underwater world.
Schedule time pre/post your ferry trip
City Sightseeing: available from downtown daily year-round
Ferry / Hotel Specials or 1-800-686-0446
Best Price Guaranteed:
Packages are available year -round & include:
1) Seattle - Victoria ferry round-trip
2) One or more Victoria* hotel nights
2) all applicable taxes
3) luggage transfers
(* all the most popular downtown Victoria hotels included)