Dover Calais Ferry - Book a Dover Calais Ferry with Ferry Travel.com
DOVER CALAIS FERRY WITH FERRY TRAVEL.COM
Ferry Travel.com is an international ferry dedicated site enabling you to see the routes, timetables, crossing times and prices for all major European ferry operators as well as for the North American operators providing ferry service in and to Alaska, British Columbia & Washington State.
You can book your Dover Calais Ferry crossing simply and securely online using the drop down menus below. You can easily compare the prices of different ferry crossings so that you are confident you have chosen the best deal.
Ferry Travel.com offers a ticketless service. When your booking is complete you will immediately be given a booking reference number which is all that is needed to board your Dover Calais Ferry.
BOOK A DOVER CALAIS FERRY
Please select your routes from the boxes below.
To remove a route click on the 'X' button.
DOVER CALAIS FERRY TERMINAL MAP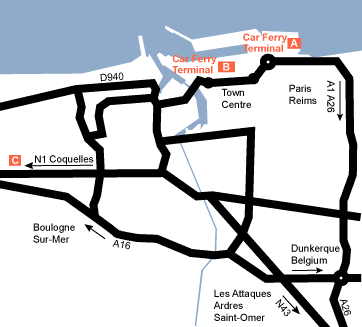 Map Key: B SeaFrance/P&O Ferries C Eurotunnel
Click here for the Dover Port Map
DOVER CALAIS FERRY PORT INFORMATION
Dover
Backed by its famous White Cliffs, Dover is located in Kent, on England's southeastern tip and is the UK's closest geographical point to Continental Europe.
Getting There
By Road
Dover is 70 miles south of London, directly linked to the M2/A2 and M20/A20, both of which connect to the M25.
Dover's SeaFrance and P&O Ferries Terminal is situated to the east of the town at the Eastern Docks and the Hoverspeed terminal is to the west. Both can be easily reached by foot or taxi from Dover Priory Station. If you are travelling by car, simply follow the clearly signposted routes from the A2 or A20.
By Rail & Coach
Frequent direct trains to Dover Priory Station run from London Victoria and London Charing Cross mainline stations. Approximate journey time is 1hr 45 mins.
Regular National Express Coach services travel to Dover from London Victoria Coach Station. Approximate travel time is 2hrs 30 mins.
Calais
Wh
DOVER CALAIS FERRY SPECIAL OFFERS
Below are cheap Dover Calais Ferry crossings and special offers.
Select your number of passengers and click BOOK.
Book by 22 December 2006

---

Route
Price
Fare Type
Details
Passengers
Book by 31 December 2006

---

Route
Price
Fare Type
Details
Passengers
Ferry Operators: Brittany Ferries Condor Ferries Corisca Sardinia Ferries DFDS Seaways Eurostar Paris Eurotunnel Fjordline Ferries Hoverspeed Ferries Irish Ferries Northlink Ferries P O Ferries Dover Calais P & O Ferries North Sea P & O Ferries Portsmouth P & O Ferry P & O Irish Ferries Pentland Ferries Red Funnel Ferries Scandlines Ferries Sea France Ferries Seacat Ferry Stena Line Ferry Superfast Ferries Rosyth Symril Line Ferries
Ferry Port Maps: Aberdeen Ferry Amsterdam Ferry Belfast Ferry Calais Ferry Cherbourg Ferry Dieppe Ferry Dover Calais Ferry Dover Ferry Dublin Ferry Fleetwood Ferry Harwich Ferry Heysham Ferry Holyhead Ferry Hull Ferry Larne Ferry Lerwick Ferry Liverpool Ferry Newcastle Ferry Newhaven Ferry Nice Ferry Pembroke Ferry Plymouth Ferry Poole Ferry Portsmouth Ferry Rosslare Ferry Southampton Ferry Toulon Ferry Troon Ferry Weymouth Ferry
Countries: Ferry to Norway Ferry to Denmark Ferry to England UK Ferry to Finland Ferry to France Ferry to Germany Ferry to Greece Ferry to Holland Ferry to Ireland Ferry to Isle of Wight Ferry to Italy Ferry to Sardinia Ferry to Scotland Ferry to Sicily Ferry to Spain Ferry to Sweden