Ferry to Holland - Book a Ferry to Holland with Ferry Travel.com
FERRY TO HOLLAND WITH FERRY TRAVEL.COM
Ferry Travel.com is a UK based ferry dedicated site which enables you to see the routes, timetables, crossing times and prices for all major European ferry operators.
You can book your Ferry to Norway crossing simply and securely online using the drop down menus below. You can easily compare the prices of different ferry crossings so that you are confident you have chosen the best deal.
Ferry Travel.com offers a ticketless service. When your booking is complete you will immediately be given a booking reference number which is all that is needed to board your Ferry to Holland.
BOOK A FERRY TO HOLLAND
Please select your routes from the boxes below.
To remove a route click on the 'X' button.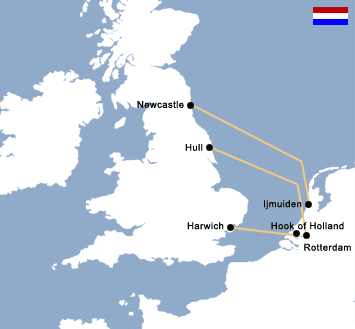 ABOUT FERRY TO HOLLAND
Holland is home to Van Gogh, tulips, wind mills and channels. Why not take a Ferry to Holland with Ferry Travel.com to take a further look at the local attractions.
North Holland has everything for a varied short or long holiday. North Holland is Holland in a nutshell. All those elements which are so typical of the Netherlands you will find in North Holland. Beautiful beaches, historic towns and villages with exciting museums and cosy restaurants, water in and surrounding the province, miles and miles of walking and cycling paths, flowering bulbfields in the spring. We'`ve got it all. North Holland is Holland at its purest.
A Ferry to Holland will let you explore the Dutch peninsula'`s North Sea coast! The Noord-Holland Peninsula'`s North Sea coast combines kilometres of sand with the unspoilt natural environment of the Noord-Holland Dunes Reserve, popular with walkers and cyclists in summer and winter alike. Or take advantage of the country'`s countless options for water sports. Sailing, canoeing, rowing, wind
FERRY TO HOLLAND SPECIAL OFFERS
Below are cheap Ferry to Holland crossings and special offers.
Select your number of passengers and click BOOK.
Book by 31 August 2006

---

Route
Price
Fare Type
Details
Passengers
Book by 31 December 2006

---

Route
Price
Fare Type
Details
Passengers
Ferry Operators: Brittany Ferries Condor Ferries Corisca Sardinia Ferries DFDS Seaways Eurostar Paris Eurotunnel Fjordline Ferries Hoverspeed Ferries Irish Ferries Northlink Ferries P O Ferries Dover Calais P & O Ferries North Sea P & O Ferries Portsmouth P & O Ferry P & O Irish Ferries Pentland Ferries Red Funnel Ferries Scandlines Ferries Sea France Ferries Seacat Ferry Stena Line Ferry Superfast Ferries Rosyth Symril Line Ferries
Ferry Port Maps: Aberdeen Ferry Amsterdam Ferry Belfast Ferry Calais Ferry Cherbourg Ferry Dieppe Ferry Dover Calais Ferry Dover Ferry Dublin Ferry Fleetwood Ferry Harwich Ferry Heysham Ferry Holyhead Ferry Hull Ferry Larne Ferry Lerwick Ferry Liverpool Ferry Newcastle Ferry Newhaven Ferry Nice Ferry Pembroke Ferry Plymouth Ferry Poole Ferry Portsmouth Ferry Rosslare Ferry Southampton Ferry Toulon Ferry Troon Ferry Weymouth Ferry
Countries: Ferry to Norway Ferry to Denmark Ferry to England UK Ferry to Finland Ferry to France Ferry to Germany Ferry to Greece Ferry to Holland Ferry to Ireland Ferry to Isle of Wight Ferry to Italy Ferry to Sardinia Ferry to Scotland Ferry to Sicily Ferry to Spain Ferry to Sweden