Liverpool Ferry - Book a Liverpool Ferry with Ferry Travel.com
LIVERPOOL FERRY WITH FERRY TRAVEL.COM
Ferry Travel.com is a UK based ferry dedicated site which enables you to see the routes, timetables, crossing times and prices for all major European ferry operators.
You can book your Liverpool Ferry crossing simply and securely online using the drop down menus below. You can easily compare the prices of different ferry crossings so that you are confident you have chosen the best deal.
Ferry Travel.com offers a ticketless service. When your booking is complete you will immediately be given a booking reference number which is all that is needed to board your Liverpool Ferry.
BOOK A LIVERPOOL FERRY
Please select your routes from the boxes below.
To remove a route click on the 'X' button.
LIVERPOOL FERRY TERMINAL MAP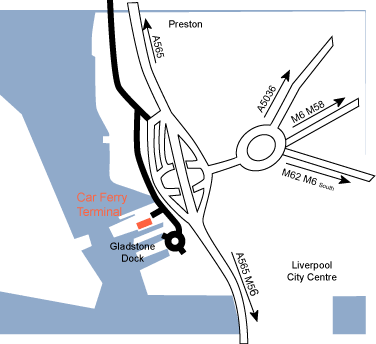 LIVERPOOL FERRY PORT INFORMATION
Liverpool, with its famous waterfront on the River Mersey, is a great shipping port and industrial center. King John launched it on its road to glory when he granted it a charter in 1207. Before that, it had been a tiny 12th-century fishing village, but it quickly became a port for shipping men and materials to Ireland.
Getting There
P&O Irish Sea Terminal
By Car
Liverpool Terminal is within Liverpool Freeport. Go through Freeport police security entrance, take first left. Terminal is about one mile along on right hand side. Take a right, follow signs past the front of terminal buildings to passenger check-in. From Liverpool City Centre follow A565 towards Bootle. Take sign for Liverpool Freeport. From other areas use M57 or M58 and follow signs "All Docks" on A5036. Continue on A5036 for approx. 2 miles until roundabout incorporating a flyover and follow signs for Crosby/Liverpool Freeport.
By Train
Frequent express trains depart London's E
LIVERPOOL FERRY SPECIAL OFFERS
Below are cheap Liverpool Ferry crossings and special offers.
Select your number of passengers and click BOOK.
Book by 30 November 2006

---

Route
Price
Fare Type
Details
Passengers
Book by 31 December 2006

---

Route
Price
Fare Type
Details
Passengers
Ferry Operators: Brittany Ferries Condor Ferries Corisca Sardinia Ferries DFDS Seaways Eurostar Paris Eurotunnel Fjordline Ferries Hoverspeed Ferries Irish Ferries Northlink Ferries P O Ferries Dover Calais P & O Ferries North Sea P & O Ferries Portsmouth P & O Ferry P & O Irish Ferries Pentland Ferries Red Funnel Ferries Scandlines Ferries Sea France Ferries Seacat Ferry Stena Line Ferry Superfast Ferries Rosyth Symril Line Ferries
Ferry Port Maps: Aberdeen Ferry Amsterdam Ferry Belfast Ferry Calais Ferry Cherbourg Ferry Dieppe Ferry Dover Calais Ferry Dover Ferry Dublin Ferry Fleetwood Ferry Harwich Ferry Heysham Ferry Holyhead Ferry Hull Ferry Larne Ferry Lerwick Ferry Liverpool Ferry Newcastle Ferry Newhaven Ferry Nice Ferry Pembroke Ferry Plymouth Ferry Poole Ferry Portsmouth Ferry Rosslare Ferry Southampton Ferry Toulon Ferry Troon Ferry Weymouth Ferry
Countries: Ferry to Norway Ferry to Denmark Ferry to England UK Ferry to Finland Ferry to France Ferry to Germany Ferry to Greece Ferry to Holland Ferry to Ireland Ferry to Isle of Wight Ferry to Italy Ferry to Sardinia Ferry to Scotland Ferry to Sicily Ferry to Spain Ferry to Sweden