Newcastle Ferry - Book a Newcastle Ferry with Ferry Travel.com
NEWCASTLE FERRY WITH FERRY TRAVEL.COM
Ferry Travel.com is a UK based ferry dedicated site which enables you to see the routes, timetables, crossing times and prices for all major European ferry operators.
You can book your Newcastle Ferry crossing simply and securely online using the drop down menus below. You can easily compare the prices of different ferry crossings so that you are confident you have chosen the best deal.
Ferry Travel.com offers a ticketless service. When your booking is complete you will immediately be given a booking reference number which is all that is needed to board your Newcastle Ferry.
BOOK A NEWCASTLE FERRY
Please select your routes from the boxes below.
To remove a route click on the 'X' button.
NEWCASTLE FERRY TERMINAL MAP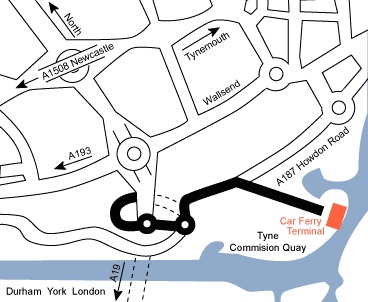 NEWCASTLE FERRY PORT INFORMATION
Newcastle was once in the forefront of 19th century industrial innovation, now, the forefront of technical innovation, leisure and culture. Wander down to the transformed waterfront, the Quayside, now lined with stylish hotels, designer bars, restaurants and public art. The Gateshead Millennium Bridge, a work of art in itself, arches across the Tyne to link the City to Gateshead Quays and the Baltic Centre for Contemporary Art.
Getting There
By Car
DFDS Seaway's ships sail from the Internatinal Ferry Terminal, Royal Quays, North Shields which is situated approximately 8 miles east of Newcastle City Centre and is signposted with the "International Ferry" symbol.
From the City Centre: Take the A1 towards Morpeth and then the A19 towards the Tyne Tunnel. On Approach to the tunnel, follow the International Ferry symbol onto the A187 towards North Shields. Continue along this road to the roundabout, take the second exit to the International Ferry Terminal, Royal Quays.
NEWCASTLE FERRY SPECIAL OFFERS
Below are cheap Newcastle Ferry crossings and special offers.
Select your number of passengers and click BOOK.
Book by 31 August 2006

---

Route
Price
Fare Type
Details
Passengers
Book by 03 September 2006

---

Route
Price
Fare Type
Details
Passengers
Book by 09 October 2006

---

Route
Price
Fare Type
Details
Passengers
Book by 31 December 2006

---

Route
Price
Fare Type
Details
Passengers
Ferry Operators: Brittany Ferries Condor Ferries Corisca Sardinia Ferries DFDS Seaways Eurostar Paris Eurotunnel Fjordline Ferries Hoverspeed Ferries Irish Ferries Northlink Ferries P O Ferries Dover Calais P & O Ferries North Sea P & O Ferries Portsmouth P & O Ferry P & O Irish Ferries Pentland Ferries Red Funnel Ferries Scandlines Ferries Sea France Ferries Seacat Ferry Stena Line Ferry Superfast Ferries Rosyth Symril Line Ferries
Ferry Port Maps: Aberdeen Ferry Amsterdam Ferry Belfast Ferry Calais Ferry Cherbourg Ferry Dieppe Ferry Dover Calais Ferry Dover Ferry Dublin Ferry Fleetwood Ferry Harwich Ferry Heysham Ferry Holyhead Ferry Hull Ferry Larne Ferry Lerwick Ferry Liverpool Ferry Newcastle Ferry Newhaven Ferry Nice Ferry Pembroke Ferry Plymouth Ferry Poole Ferry Portsmouth Ferry Rosslare Ferry Southampton Ferry Toulon Ferry Troon Ferry Weymouth Ferry
Countries: Ferry to Norway Ferry to Denmark Ferry to England UK Ferry to Finland Ferry to France Ferry to Germany Ferry to Greece Ferry to Holland Ferry to Ireland Ferry to Isle of Wight Ferry to Italy Ferry to Sardinia Ferry to Scotland Ferry to Sicily Ferry to Spain Ferry to Sweden