Weymouth Ferry - Book a Weymouth Ferry with Ferry Travel.com
WEYMOUTH FERRY WITH FERRY TRAVEL.COM
Ferry Travel.com is a UK based ferry dedicated site which enables you to see the routes, timetables, crossing times and prices for all major European ferry operators.
You can book your Pembroke Ferry crossing simply and securely online using the drop down menus below. You can easily compare the prices of different ferry crossings so that you are confident you have chosen the best deal.
Ferry Travel.com offers a ticketless service. When your booking is complete you will immediately be given a booking reference number which is all that is needed to board your Weymouth Ferry.
BOOK A WEYMOUTH FERRY
Please select your routes from the boxes below.
To remove a route click on the 'X' button.
WEYMOUTH FERRY TERMINAL MAP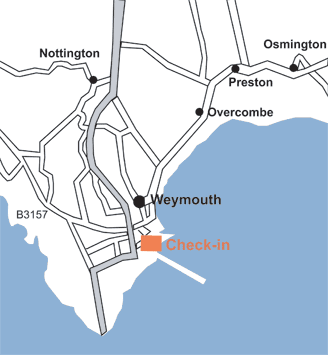 WEYMOUTH FERRY PORT INFORMATION
Weymouth is a great resort for all the family, with its safe bathing beach, picturesque harbour and a variety of attractions and events. Weymouth has much more to offer than just the beach. As one would expect of a coastal resort, water sports feature prominently in the list of activities. With excellent wind conditions all year round the waters of Weymouth Bay and Portland Harbour are a Mecca for windsurfers and dinghy sailors.
Getting There
By Car
Weymouth is 8 miles south of Dorchester on the A354. Follow the signs to Ferries/Ferry Port, which is on the left.
Weymouth can also be approached from the A35 at Poole by following the A351, then the A352, & then finally the A353 into the Town Centre..
By Rail
Southwest Trains operate a regular rail service to Weymouth from London.
Parking
There is car parking available at Weymouth Port. No pre-booking is needed, but it is advisable to arrive at the port in good time before check-in and go
WEYMOUTH FERRY SPECIAL OFFERS
Below are cheap Weymouth Ferry crossings and special offers.
Select your number of passengers and click BOOK.
Book by 30 December 2006

---

Route
Price
Fare Type
Details
Passengers
Ferry Operators: Brittany Ferries Condor Ferries Corisca Sardinia Ferries DFDS Seaways Eurostar Paris Eurotunnel Fjordline Ferries Hoverspeed Ferries Irish Ferries Northlink Ferries P O Ferries Dover Calais P & O Ferries North Sea P & O Ferries Portsmouth P & O Ferry P & O Irish Ferries Pentland Ferries Red Funnel Ferries Scandlines Ferries Sea France Ferries Seacat Ferry Stena Line Ferry Superfast Ferries Rosyth Symril Line Ferries
Ferry Port Maps: Aberdeen Ferry Amsterdam Ferry Belfast Ferry Calais Ferry Cherbourg Ferry Dieppe Ferry Dover Calais Ferry Dover Ferry Dublin Ferry Fleetwood Ferry Harwich Ferry Heysham Ferry Holyhead Ferry Hull Ferry Larne Ferry Lerwick Ferry Liverpool Ferry Newcastle Ferry Newhaven Ferry Nice Ferry Pembroke Ferry Plymouth Ferry Poole Ferry Portsmouth Ferry Rosslare Ferry Southampton Ferry Toulon Ferry Troon Ferry Weymouth Ferry
Countries: Ferry to Norway Ferry to Denmark Ferry to England UK Ferry to Finland Ferry to France Ferry to Germany Ferry to Greece Ferry to Holland Ferry to Ireland Ferry to Isle of Wight Ferry to Italy Ferry to Sardinia Ferry to Scotland Ferry to Sicily Ferry to Spain Ferry to Sweden