Ferry to Norway - Book a Ferry to Norway with Ferry Travel.com
FERRY TO NORWAY WITH FERRY TRAVEL.COM
Ferry Travel.com is a UK based ferry dedicated site which enables you to see the routes, timetables, crossing times and prices for all major European ferry operators.
You can book your Ferry to Norway crossing simply and securely online using the drop down menus below. You can easily compare the prices of different ferry crossings so that you are confident you have chosen the best deal.
Ferry Travel.com offers a ticketless service. When your booking is complete you will immediately be given a booking reference number which is all that is needed to board your Ferry to Norway.
BOOK A FERRY TO NORWAY
Please select your routes from the boxes below.
To remove a route click on the 'X' button.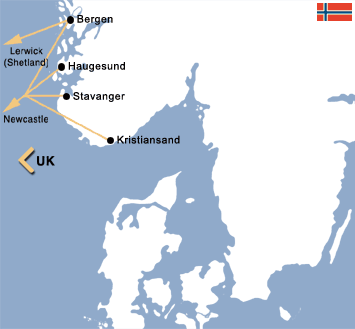 ABOUT FERRY TO NORWAY
Take a Ferry to Norway with Ferry Travel.com and watch out for the beautiful blue-green fjords already as you enter the port. Norway is a country of contrasts with breathtaking scenery so varied it never ceases to amaze. Dramatic mountain ranges, spectacular fjords, cosmopolitan cities and historical sites are among the popular attractions in Norway. Apart from this Norway is also fun and excitement; walking in the footsteps of the Vikings; riding on a reindeer sleigh; hiking, biking and paragliding; or just sitting back and enjoying one of the world-class cultural events.
Let your Ferry to Norway take you direct into the charming city of Bergen. Surrounded by seven mountains and set around the picturesque harbour, this charming city has a rugged and beautiful backdrop. Take a trip to the fjords which are easily accessible from the city. The fjords were curved out in a succession of Ice Ages. When the ice retreated 10-12 000 years ago, plants soon established themselves, animals thrived and hunters followed. Apart fr
FERRY TO NORWAY SPECIAL OFFERS
Below are cheap Ferry to Norway crossings and special offers.
Select your number of passengers and click BOOK.
Book by 29 September 2006

---

Route
Price
Fare Type
Details
Passengers
Book by 30 December 2006

---

Route
Price
Fare Type
Details
Passengers
Book by 31 December 2006

---

Route
Price
Fare Type
Details
Passengers
Ferry Operators: Brittany Ferries Condor Ferries Corisca Sardinia Ferries DFDS Seaways Eurostar Paris Eurotunnel Fjordline Ferries Hoverspeed Ferries Irish Ferries Northlink Ferries P O Ferries Dover Calais P & O Ferries North Sea P & O Ferries Portsmouth P & O Ferry P & O Irish Ferries Pentland Ferries Red Funnel Ferries Scandlines Ferries Sea France Ferries Seacat Ferry Stena Line Ferry Superfast Ferries Rosyth Symril Line Ferries
Ferry Port Maps: Aberdeen Ferry Amsterdam Ferry Belfast Ferry Calais Ferry Cherbourg Ferry Dieppe Ferry Dover Calais Ferry Dover Ferry Dublin Ferry Fleetwood Ferry Harwich Ferry Heysham Ferry Holyhead Ferry Hull Ferry Larne Ferry Lerwick Ferry Liverpool Ferry Newcastle Ferry Newhaven Ferry Nice Ferry Pembroke Ferry Plymouth Ferry Poole Ferry Portsmouth Ferry Rosslare Ferry Southampton Ferry Toulon Ferry Troon Ferry Weymouth Ferry
Countries: Ferry to Norway Ferry to Denmark Ferry to England UK Ferry to Finland Ferry to France Ferry to Germany Ferry to Greece Ferry to Holland Ferry to Ireland Ferry to Isle of Wight Ferry to Italy Ferry to Sardinia Ferry to Scotland Ferry to Sicily Ferry to Spain Ferry to Sweden